Cooler Master has decided to update its Swift-RX mouse pad line by adding an entirely new model to the series – the extra large Swift-RX mouse pad that complements and completes the Swift-RX line.
The new Extra Large Swift-RX model measures 900 x 360 mm and is for people to whom regular mouse pads are simply not enough. The new model is so large it gives enough space to not only the mouse used but also to the keyboard for maximum surface area. Despite its large size the Swift-RX XL model keeps all specs found in the smaller Small (S), Medium (M) and Large (L) mouse pads and features the same finely textured microscopic mesh for excellent precision for both optical and laser sensors and a very smooth, low friction surface for optimal comfort and control. The base of the Swift-RX XL is made of natural rubber to make sure the mouse pad stays in the same place despite all kinds of usage and there are special treated stitched edges which prevent the top surface from fraying, making the mouse pad extremely durable. Just as a comparison the Small, Medium and Large mouse pads measure 250 x 210 mm, 320 x 270 mm and 450 x 360 mm, respectively. All models in the series, including the Swift-RX XL size share the same 3 mm thickness.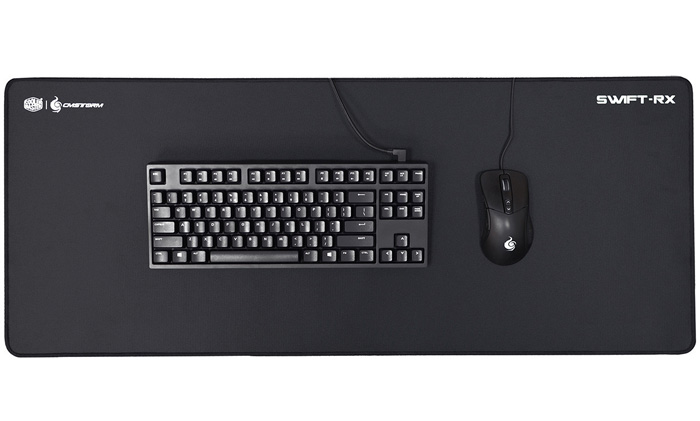 The Swift-RX XL model will be available at the end of April 2015 or in early May for EUR 29.90. The Small, Medium and Large models cost EUR 9.50, EUR 13.50 and EUR 19.50, correspondingly.
Source: Cooler Master