Silicon Power has officially launched a new SSD series that will be known as V70.
The new SSDs arrive in gold-colored chassis and offer capacities of 60 GB/120 GB/240 GB/480 GB. Based on SandForce SF-2281 controllers the SSDs sport 2.5-inch form factor, measure 100 x 69.9 x 9.4 mm and weigh 64-77 grams. In addition the new V70 series supports TRIM, NCQ, the so-called Garbage Collection technology, DuraWrite, Wear Leveling and finally ECC. As to speed the V70 offers up to 557 MB/sec of read speed and 507 MB/sec of write speed as well as 86 000 IOPS.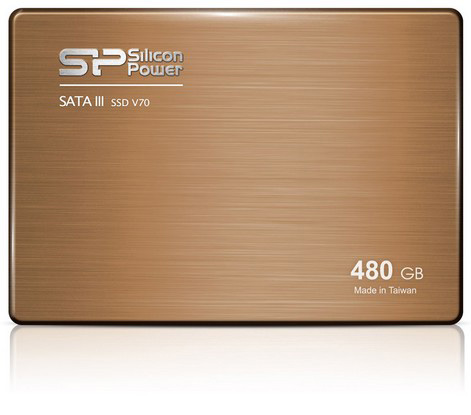 Purchasers of a Silicon Power V70 solid-state drive will also be treated with a 3-year warranty and a special adapter that allows the drive to be installed in a 3.5-inch PC bay.
Source: 3Dnews.ru