ADT Security Services today introduced a new advanced skimming detection device for financial institutions throughout North America. The ADT Anti-Skim™ ATM Security Solution helps prevent skimming attempts and detects skimming devices on all major ATM makes and models.
Skimming is one of the financial industry's fastest-growing crimes, according to the U.S. Secret Service. Also, the worldwide ATM Industry Association reports over $1 billion in annual global losses from credit card fraud and electronic crime associated with ATMs.
"But perhaps the most significant skimming cost to financial institutions is the damage to their reputation and the loss of customer confidence that accompanies the theft of personal financial information," said Hank Monaco, vice president for ADT Security Services. "The technology exists today to help defeat that problem."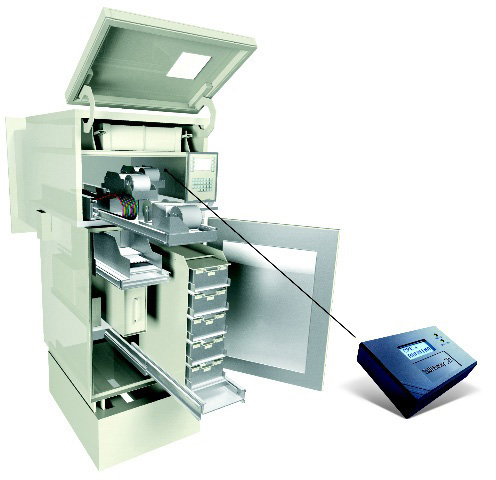 ADT's anti-skim solution is installed inside an ATM near the card reader, making it invisible from the outside. The solution detects the presence of foreign devices placed over or near an ATM card entry slot, without disrupting the customer transaction or operation of most ATMs. Also, the technology helps prevent card-skimming attempts by interrupting the operation of an illegal card reader.
The ADT Anti-Skim ATM Security Solution:
• Helps protect the integrity of cardholders' personal financial information during ATM transactions.
• Can trigger a silent alarm for command center response and coordinate video surveillance of all skimming activities.
• Requires no software adjustments to the ATM.
• Does not connect to or affect the ATM communications network.
• Has more than 40,000 successful ATM applications worldwide.
Prior to its North American introduction, the ADT Anti-Skim ATM Security Solution was successfully field tested on dozens of ATMs of four major U.S. financial institutions in controlled pilot programs. Testing pilots yielded positive results, with no known skimming compromises occurring.
Monaco said a recent study by Harris Interactive reported that two-thirds of U.S. adults who use financial institution with ATMs would likely switch to another institution after an instance of ATM fraud or a data breach.
"This survey highlights the important role that the ADT Anti-Skim ATM Security Solution can play in helping secure consumer confidence in ATM transactions," he said. "ADT already helps to protect tens of thousands of retail banking facilities, operations centers and ATM operations with a variety of intrusion, access control and video surveillance systems. Our new anti-skim solution adds another layer of protection for financial institutions."
About ADT Security Services
ADT Security Services is a unit of Tyco International and part of ADT Worldwide, the world's largest security provider. In North America, ADT provides electronic security services to nearly five million commercial, government and residential customers. ADT's total security solutions include intrusion, fire protection, video systems, access control, critical condition monitoring, home health services, electronic article surveillance, radio frequency identification (RFID) and integrated systems. ADT's government and commercial customers include a majority of the nation's Fortune 500 companies, all U.S. federal courthouses and over 70 mid to large airports. Headquartered in Boca Raton, Florida, ADT has more than 24,000 employees at approximately 240 locations in the U.S. and Canada. More ADT information is at www.adt.com.
Source: Press Release