When spending time in the great outdoors, there are several tools needed to prepare you for the elements– a compass to point you in the right direction, a barometer to warn of any fast-coming storms, a thermometer to monitor any sudden temperature changes and an altimeter to ensure elevations are always managed. Casio's PAG40-7V, the latest member of the Pathfinder line of sporty, rugged timepieces, features all of these tools in a sophisticated multi-color watch ideal for roughing it in the outdoors.
Known for delivering timepieces with the outdoors man in mind, Pathfinder continues its tradition of making active lives easier by combining key tools with style and comfort for use in outdoor activities. The PAG40-7V features a thermometer; digital compass, which measures and displays directions as one of 16 points; an altimeter measuring -2,300 feet to 32,800 feet; and a barometer displaying atmospheric pressure essential for a day of maximum activity and high energy.

"Casio is dedicated to developing functional and fashionable timepieces suitable for every outdoors man," says Shigenori Itoh, Vice President of Casio's Timepiece Division. "The PAG40-7V has great features, including a strong frame perfect for enduring all of nature's elements and comfortable band ideal for all-day use."
The PAG40-7V includes a unique tri-tone case of black, green and white, enhancing visual appeal and also making it an attractive wrist accessory. Button guards prevent against accidental operation of sensors and enhance practicality of the timepiece while a large Duplex LCD display makes reading time, measurements and graphs easy. For less eye strain and visibility in low-light conditions, it features an Auto EL Backlight function which automatically illuminates the backlight with the tilt of the wrist for hands free operability.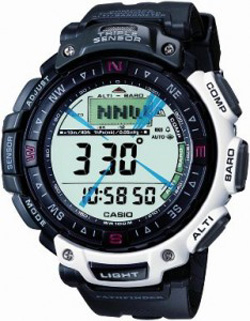 This new timepiece encompasses all of the features that the Pathfinder line is known for including water resistance up to 100 meters, five daily alarms, 1/100 second stopwatch, an auto calendar and 12/24 hour formats. Additionally, the PAG40-7V is built with low-temperature resistance to accommodate cold weather conditions. Weighing in at 2.6 ounces, the newest Pathfinder is a lightweight watch, assembled to withstand the elements wherever you go.
The Pathfinder PAG40-7V will be available this holiday season, exclusively on www.Amazon.com with an MSRP of $200.
Source: Casio