As one of the most rugged and highly advanced outdoorsman watches on the market, Casio America, Inc. is proud to announce a new edition to its Pathfinder collection, the PAG110C-3. The new Pathfinder will help men to not only brave the outdoors but also protect the environment with eco-conscious features including solar technology and recycled packaging.
Leading Casio's "Go Green" spring collection of stylish watches with high functionality, the PRG110C-3 incorporates the company's Tough Solar Technology which increases battery life through the regeneration of electrical power from sunlight. This technology decreases battery consumption associated with traditional watches, helping to cut down on the more than three billion batteries thrown away each year by Americans, according to the Environmental Protection Agency, which increase the presence of heavy metals in landfills and cause toxic contamination to the environment.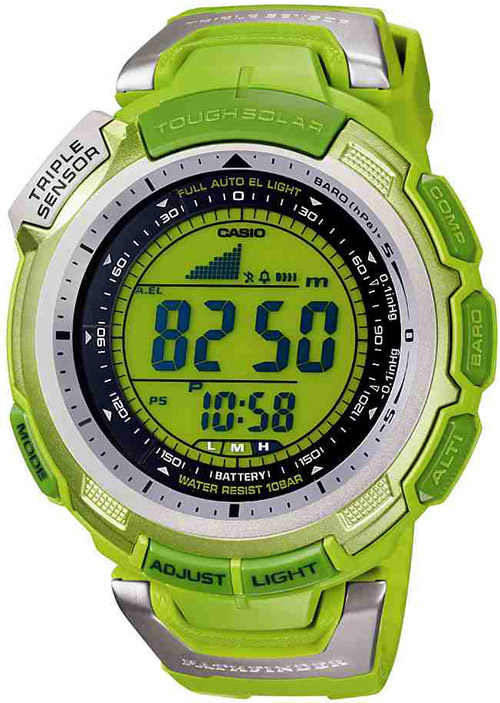 Staying true to the core Pathfinder features, the PAG110C-3 provides consumers with advanced outdoor capabilities. Featuring a digital compass, altimeter, barometer and thermometer, this model fits the needs of the serious outdoorsman. To address everyday needs, the PAG110C-3 has five daily alarms, a stopwatch and world time in 30 cities. The watch is also water resistant up to 100 meters and low temperature resistant, making it ideal for extreme climates.
In addition to the environmentally-friendly self-charging, tough solar power, the PAG110C-3 comes in recycled packaging that reduces the carbon footprint, eliminating the use of energy and resources in its creation.
"We're very excited to welcome this new eco-friendly timepiece to the Pathfinder line," said Shigenori Itoh, vice president of Casio's Timepiece Division. "Casio is a company dedicated to supporting eco-friendly initiatives and we are very proud to introduce this solar-powered watch in conjunction with the celebration of Earth Day."
Available in an earthy shade of green, the PAG110C-3 stylishly coordinates with an outdoorsman's surroundings. The PAG110C-3 is available exclusively on Amazon.com with an MSRP of $250. For more information, please visit http://pathfinder.casio.com.
Source: Casio