Garmin International Inc., a unit of Garmin Ltd. , the global leader in satellite navigation, announced today the nüvi 1690, a portable navigation device (PND) with a built-in wireless module that lets customers tap into Garmin's nüLink! service that provides direct links to certain online information like Google™ local search, traffic, weather, fuel prices, movie listings, flight status, local events, white page telephone listings and Ciao!™, Garmin's exclusive location-based social networking system that connects multiple networks into a single portal for Garmin users. The U.S. version of the nüvi 1690 comes with two years of free Garmin nüLink! service, which makes it the first PND to offer an extended period of online features included in the purchase price of the device.
"Our customers want and need accurate, up-to-the-minute information that they can access quickly and without hassles," said Dan Bartel, Garmin's vice president of worldwide sales. "The nüvi 1690 meets these expectations by combining the power of Google's local search and other compelling online services with preloaded maps and points of interest for the ultimate navigation experience. And best of all, the nüvi 1690 includes two years of Garmin nüLink! service out-of-the-box, eliminating any hesitation that customers might have about paying for these premium services."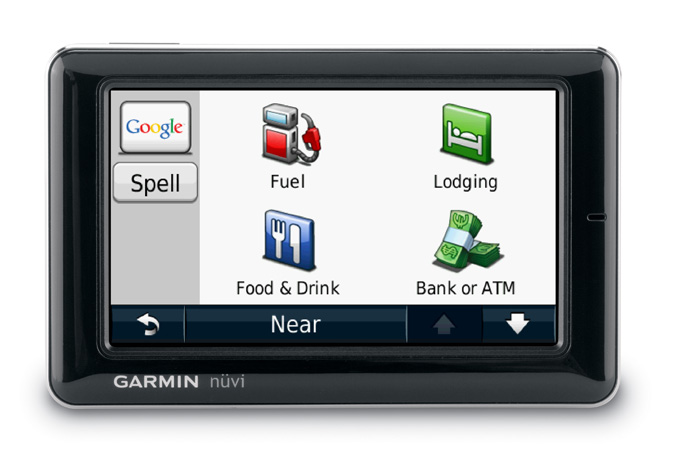 The nüvi 1690 with nüLink! has the most comprehensive set of POI search capabilities offered by any PND thanks to the implementation of Google local search and white page telephone listings. Google's local search brings online points of interest (POIs) to customers' fingertips and lets them search for destinations by name or key words just like they are accustomed to doing on their personal computer. In addition, Garmin has created a "quick search" feature that lets users search via categories like food, lodging and fuel, rather than typing a word or phrase into the search box. Detailed search results are displayed for many POIs including a location description, business address, phone number and popularity rating. Customers can also use the nüLink! white page telephone listing feature to search for a person's street address by their first name, last name or phone number.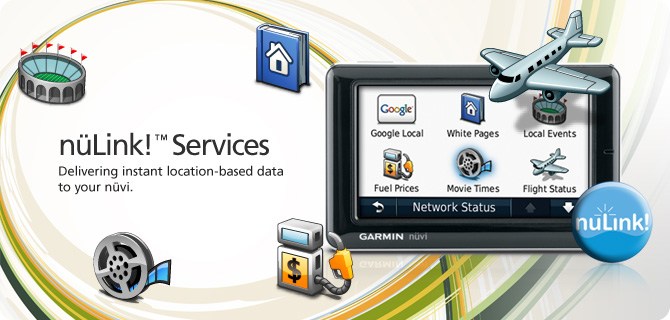 In addition to the local search capabilities, Garmin nüLink! offers a plethora of other online services. Local events and movie listings help customers find interesting activities wherever they might travel. Real-time flight status takes the stress out of traveling to the airport with up-to-the minute arrival and departure information for major air carriers. And the Garmin nüLink! traffic feature provides the best-in-class information from NAVTEQ to help customers navigate in and around congestion.
Customers can also opt to use the nüvi 1690's preloaded POI database to search for a location and then receive turn-by-turn, voice prompted directions to the destination. The nüvi 1690 includes lane assist with junction view so drivers will see a realistic presentation of road signs and junctions along the route, as well as arrows that indicate the proper lane for navigation. These features make it easy to navigate unfamiliar intersections and exits because the nüvi guides drivers to the correct lane for an approaching turn or exit. Map and traffic data is provided by NAVTEQ™ – a world leader in premium-quality mapping.
The nüvi 1690 is also Garmin's first mobile navigation device to transform traditional social networking into location-enabled social networking. Through Ciao!, a patent-pending social network application that links multiple location-centric social networks onto one application, customers have the option of sharing their whereabouts with friends and family. Ciao! users will see their friends' location on a map and then be able to navigate to that location. Ciao! currently aggregates information from GyPSii and uLocate's Buddy Beacon social network services. Ciao! is expandable and additional social network partners are expected in the future.
The nüvi 1690 comes standard with ecoRoute™, an innovative application that helps customers stretch their dollars and conserve fuel by creating routes that are optimized for using less fuel. When a user selects the "less fuel" option, the nüvi will determine a fuel efficient route based on fuel consumption rates, estimated driving speeds and vehicle acceleration data. Customers can then develop better driving habits by reviewing the results of ecoRoute's Fuel Report and Mileage Report. When used in combination with nüLink!'s fuel prices, customers can not only optimize their routes but also can choose their refueling locations in order to minimize the cost of vehicle operation.
The nüvi 1690 also has Bluetooth® Wireless Technology that makes it possible to receive and place phone calls directly from the nüvi. It can be paired with over 200 Bluetooth enabled phones, and a driver can retrieve and dial numbers using a supported phone's contact list, the phone's call history log, or the nüvi's preloaded points of interest database.
The U.S. version of the nüvi 1690 has preloaded maps of North America and is expected to be available in the fourth quarter for a manufacturer's suggested retail price of $499.99. In the U.S., the first two years of Garmin nüLink! is free, and after that, the subscription renewal price for data services is $5.00/month. Fuel prices in the U.S. are updated daily. nüLink! coverage area information is available at www.garmin.com/nulink.
Source: Garmin