Pentax has introduced Ultimate Zoom precision rifle scope, the first electronic scope, which has a built-in battery-powered, low-noise zooming motor that is activated by the touch of a button.
The waterproof  scope has solid 1-piece tube construction, it's Nitrogen-filled to prevent fogging and fully multi-coated optics with PentaxBright technology for sharpness and clarity.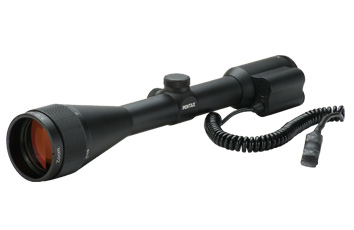 "Along with legendary PENTAX optics and durable construction, the new ULTIMATE ZOOM Rifle Scope offers a single key advantage over traditional rifle scopes," said John Carlson, Senior Manager of Sales and Marketing, PENTAX Imaging Company. "For the first time, users may automatically zoom within a full range of 3X to 15X without ever removing their grip on the rifle or shifting their focus from the eyepiece."
The PENTAX ULTIMATE ZOOM is available for $349.00 from the www.pentaxwebstore.com or select dealers.
Source: Pentax