Cyber Snipa announce  the latest addition to their pro laser gaming mouse – the Silencer.
The Silencer is a fully customizable laser gaming mouse, designed specifically for pro gamers, the Silencer boasts a full arsenal of cutting edge features which allows gamers to adapt on-the-fly.

Macro technology for enhanced gaming
The Silencer has advanced macro technology for professional gamers. The intuitive software allows you to record macros, which can then be assigned to any of the 9 customizable gamer buttons of a profile. With 7 gaming profiles available, you can fully customize the mouse to include over 63 commands.
Gaming grade laser engine with adjustable dpi for on-the-fly switching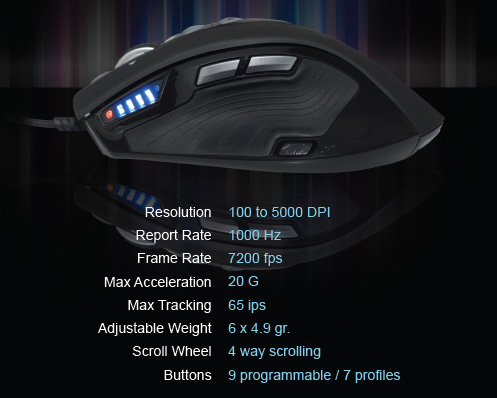 Accurate and quick responses
Featuring a fully adjustable 100-5000 DPI, gaming grade laser engine and LED indicator, the Silencer delivers unprecedented levels of performance. With on the fly DPI switching between the 4 completely customizable resolution levels, you can easily adjust the mouse to suit your gaming needs.
Silencer gaming mouse with weight system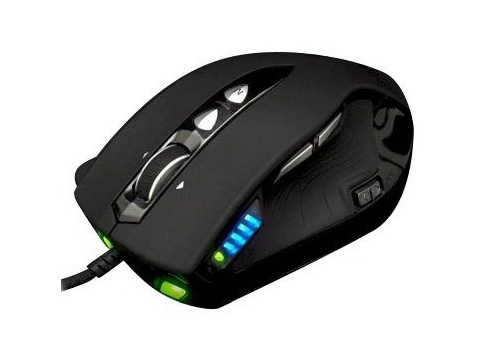 Weigh up the differences
The Silencer has an adaptable weight system giving you optimum control. Adjust the weight and balance (up to 29.4 grams) to achieve the best handling by simply removing one or more of the 6 available weights.
Silencer gaming mouse with ergonomic, interchangeable side grips for RTS, FPS and MMORPG comfort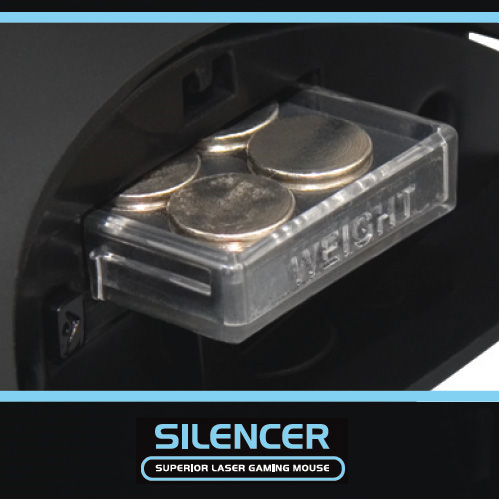 Shape shifting for style and comfort
Innovative interchangeable side grips provide optimum handling in your game, especially for different operational needs of RTS, FPS and MMORPG. The ergonomically designed rubber side grips with finger grooves will give you improved comfort for extended game play.
Technical specifications:
Up to 5000 DPI using state-of-art laser technology
On the fly DPI selection with 4 configurable levels
9 programmable buttons with 7 modes, allowing up to 63 unique macro scripts to be assigned to the mouse
Software tool for mouse configuration
Programmable buttons feature as both gaming buttons or Internet buttons
4-way scrolling
Adjust lift button allowing for optimal sensor performance
16 bit data path for ultimate performance
1000 Hz polling rate
7200 frame rate
150 inch/sec tracking speed
2 super size low friction PTFE feet
Adjustable weight system with 6 x 4.9gr weights
Changeable rubber side grips
Ergonomic and comfortable design
126 x 84 x 42 mm
: 170gr (additional 6 x 4.9gr option)
The Silencer is expected to be available next week.
Source: Cyber Snipa