The Taiwanese computer peripherals manufacturer KYE Systems Corporation, better known for its Genius brand name, has presented a new product – portable gaming speakers that belong to the GX-Gaming series.
The new speakers carry the SP-i250G model number and consist of two neodymium 40 mm omni-directional speakers with 6 watts of total power that provide users with rich and dynamic surround sound with deep bass. There's also the possibility to use only one speaker with any audio device.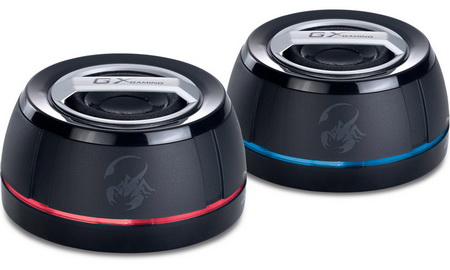 The high quality sound is not the only feature of the new Genius SP-i250G speakers – they can also please the eye with built-in LED rings that are illuminated in different colors while playing music. There is also a gold-plated plug and a capacious lithium-ion battery that provides up to 8 hours of battery life and can be charged through a USB port. The speakers also use a special mechanism for power and volume control, which can be adjusted by rotating the middle of the column. There's also a carrying case for each speaker.
Unfortunately the release date and the pricing of the new Genius product are unknown.
Source: HWP.ru