One of the most used gaming mice – Razer Lachesis was updated today, Razer announced that adds a new 5600dpi Razer Precision 3.5G laser sensor and a customizable multi-color LED lighting system, while the price remains same.
The newly updated Razer Lachesis maintains its original ambidextrous shape, the new 5600dpi 3.5G Laser sensor, which enables movement speeds of 7 times that of a standard 800dpi optical sensor and has a nine programmable Hyperesponse buttons. Also the gamers now have the choice to customize the LED lights on the mouse with the new Tricolor-LED from a range of 16 million colors. The other features are the same as on its younger brother, check them below:
"The all new Razer Lachesis is about giving gamers more personal choice and customizable options," said Robert "Razerguy" Krakoff, president, Razer USA. "With a multi-color LED for customizable color and a built-in variable dpi, the Razer Lachesis gives gamers everything they need for this three-year fan favorite."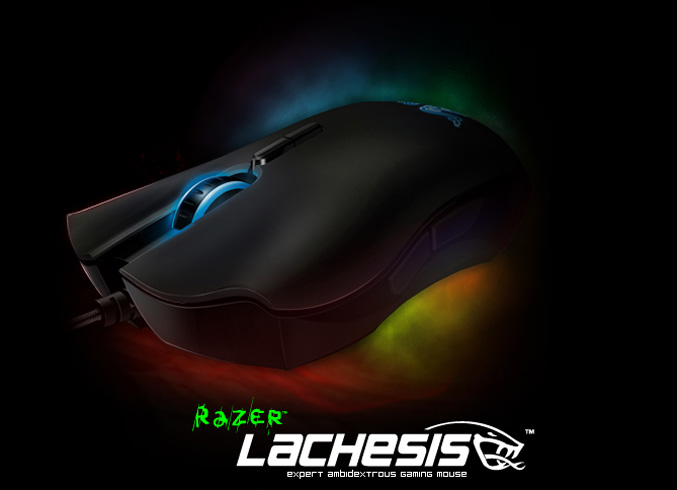 The new, updated Lachesis will be available this month for $79.99 / 69.99 Euro.
Features:
5600dpi Razer Precision™ 3.5G laser sensor
Adjustable Multi-Color LED(Up to 16 million colors)
Variable true dpi setting adjustments in increments of 125dpi
60KB Razer Synapse™ onboard memory
Nine independently programmable Hyperesponse™ buttons
1000Hz Ultrapolling / 1ms response time
Tracking up to 200 inches per second
Seven-foot, lightweight, non-tangle cord
Approximate size: 129mm (length) x 71mm (width) x 40mm (height)/ 128 gram
Scroll wheel with 24 individual click positions
Zero-acoustic Ultraslick™ Teflon feet
Gold-plated USB connector
On-The-Fly Sensitivity™ adjustment