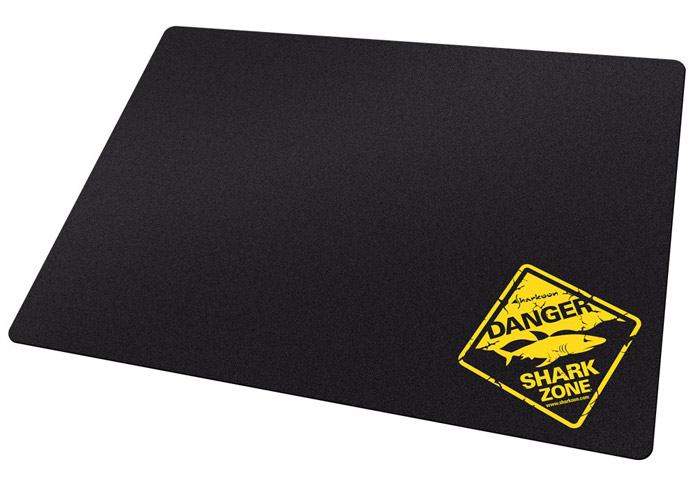 PC gamers will be thrilled to find out that peripherals maker Sharkoon has announced three new gaming mousepads.
The first in the trio is the Sharkoon 1337 Tough Gaming Mouse Pad. Specifically designed for Teflon skates the new mousepad offers unmatched acceleration and precision movements. Thanks to its rubber base the Sharkoon 1337 attaches itself firmly to any surface and even smoothes minor bumps. The mousepad measures 355 x 255 mm and comes with a height of just 3 mm sporting a yellow "Danger Shark Zone" warning logo for a total weight of massive 220 grams – you won't be able to move it easily even amidst intense fighting with your online buddies.
The Sharkoon Keto mousepad is exactly the opposite of the Sharkoon 1337. It weighs just 42 grams and has been designed for mobile use – hence it comes with dimensions of just 280 x 195 mm. The Keto is a flexible mousepad based on textile and this is why it can also serve as a screen protector when put between the display and the keyboard of your favorite notebook. In addition the textile base of the mousepad can also be rolled for easier transportation. As expected the Keto has a non-slip rubber base too.
The last in the group is the Sharkoon FireGround Mousepad – a surface that supports both the mouse and the keyboard of the PCs it is used with. The mousepad is huge – it measures 855 x 345 mm and weights 433 grams but for these massive dimensions you get special anti-slip knobs that support your keyboard and large space for your gaming mouse. The so-called DurableStitch sewing protects the mousepad, which is made of textile itself and as expected comes with a rubber base that will keep it in place under all circumstances.
The three new mousepads are available now. The Sharkoon 1337 sells for EUR 21.99, while the Keto and the FireGround cost EUR 6.99 and EUR 21.99 respectively.
Source: News.Softpedia.com