Today, SteelSeries, a leading manufacturer of game peripherals and accessories, introduced the new StarCraft® II Limited Edition ZBoard™ Keyset. Designed specifically for the release of Blizzard Entertainment's highly anticipated StarCraft II, the keyset will give gamers a customized experience; it features artwork from the game and an intuitive layout, and is a tool designed to help players develop their skills.
"As one of the most anticipated games currently in development, StarCraft II is expected to capture serious attention both from those who enjoyed the classic original and from new players," said Brian Stech, SteelSeries President of the Americas. "This Limited Edition Keyset is a valuable tool for StarCraft II players looking to immerse themselves in the game and improve their performance."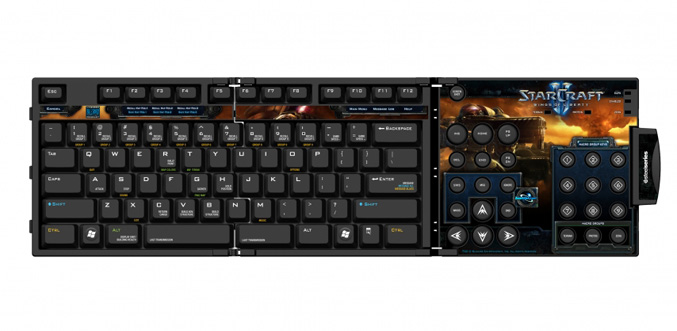 Featuring a unique single-player campaign that picks up where StarCraft: Brood War left off, StarCraft II will present a cast of new heroes and familiar faces in an edgy sci-fi story filled with adventure and intrigue. The custom designed ZBoard keyset will feature labeled commands, in-game shortcuts, and artwork from the game.
The StarCraft II Limited Edition Keyset for SteelSeries Zboard gives gamers:
An intuitive layout for fast reactions
Immersion in the StarCraft universe with official game graphics
One-touch macros for frequent commands
Full customization of each key
The StarCraft II Limited Edition Keyset retails for EUR 24.99 and will be available at game launch; the SteelSeries Zboard retails for EUR 49.99 and is available now at all major gaming retailers and etailers.
Source: SteelSeries