Assault Rifle Controller for PS3

Here is a new proposal for the FPS lovers, the Assault Rifle for PlayStation 3 from CTA, with the look of an assault rifle and lightweight construction it turns your room into a battlefield.
The Assault rifle controller connects with your PS3 wirelessly via USB dongle and has all buttons available on PlayStation 3 DualShock controller, including clickable analog sticks for strafing, running, steadying your weapon and looking around within the game environment. The trigger, of course functions as the R1 button, allowing you to experience realistic "Reaction" type of game play. Powered by 2 AA batteries, It also have a built in speaker, which sound effects can be turned on and off and removable scope and stock.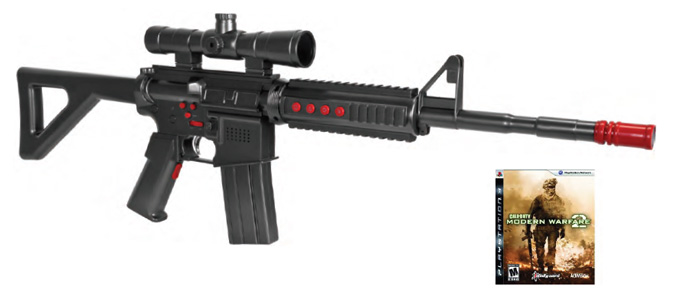 The Assault Rifle Controller will be available in August  at Amazon for $65
Compatible with the following games and many other first person shooting games:
Call of Duty®: Modern Warfare 2
Call of Duty®: Modern Warfare
Call of Duty®: World At War