Sony Computer Entertainment Europe (SCEE) has confirmed another major addition to the content line-up for the launch of Digital Comics. Alongside the extensive line up of content available, including comics from publishers such as Marvel, IDW and Rebellion, is the arrival of Disney, offering comics for the younger PSP owner.
Going live this, Digital Comics is a revolutionary new service that brings the brightness and excitement of your favourite comics to the screen of PSP™ (PlayStation®Portable) or PSP™ (PlayStation®Portable)go. Now including favourites from the Disney stable, Digital Comics lets PSP users download their choice of hundreds of classic and new comics from PlayStation®Store to PSP to read page by page or frame by frame – wherever they are. PSP owners can now take a huge collection of comics to enjoy on the move, and pick up your favourite edition from any Wi-Fi hotspot, offering a brand-new way to use their PSP for entertainment on the go.

It's easy to get started: just update your PSP with the latest firmware 6.20 and click the Digital Comics icon under the "Extras" column on PSP's XMB menu to install the application and then visit PlayStation Store for a huge range of comics. Choose from the battling Super Heroes of Marvel, including Spider-Man, X-Men and the Fantastic Four, to Disney's Mickey Mouse and Donald Duck. You'll find TRANSFORMERS and Star Trek from IDW, alongside characters from Titan, iVerse and 2000AD, as well as the latest underground sensations and works from local publishers. More and more titles will arrive in PlayStation Store with weekly content updates, offering a huge choice of quality titles at your fingertips, wherever you are
So how do you read comics on a handheld screen? It's an amazing experience made possible by Autoflow Viewer, an intuitive feature that moves the reader from frame to frame and zooms in and out, all at the touch of a button. It mimics the way your eyes would move across a print page from left to right. It's straightforward and simple to use and, accessible on all PSP models, including PSP-1000, PSP-2000 and PSP-3000, as well as on the newly introduced PSP® (PlayStation®Portable)go,comics will be looking better than ever on the vibrant widescreen LCD as the stunning graphics leap out from the screen.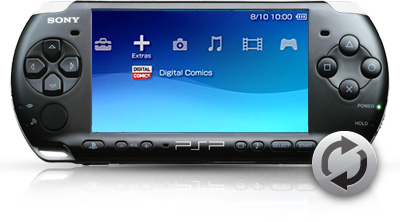 Digital Comics for PSP will be available in PlayStation Store for the UK, Ireland, Australia, New Zealand and South Africa (date), and will be rolled out throughout the SCEE region, starting with France, Italy, Germany and Spain, in 2010. Look out for free comics that'll give you a taste of what's on offer: you'll find details on the PlayStation blog, Twitter and www.playstationcomics.com.

Source: SCEE