Apricorn, an innovative provider of secure mobile storage, today released the Aegis Padlock Secure Hard Drive, a portable hardware encrypted drive and secure storage system. With an easy-to-use keypad and software-free design, the Aegis Padlock offers customers immediate secure access to the drive using a customized personal identification number. Offering a choice of AES-128 or 256 bit hardware encryption, the Aegis Padlock provides seamless real-time encryption to keep data secure even if the hard drive is removed from its enclosure.
In designing the Aegis Padlock, Apricorn had three goals in mind: security, simplicity and affordability. With a one page Quick Start Guide and software-free setup, the Aegis Padlock enables you to be up and running with your own unique PIN in minutes. The Aegis Padlock's pricing is competitive with many standard USB portable drives. Therefore, the premium for secure, real-time, hardware encrypted storage solutions is less of an issue and affordable for most consumers.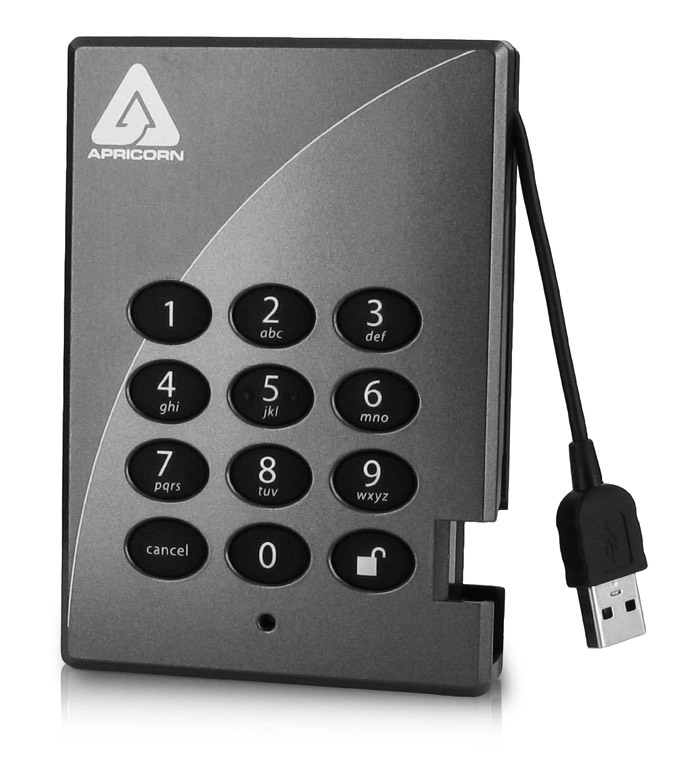 With its software-free design and ability to run on any platform, the Aegis Padlock is easy to deploy in corporate environments and is perfect for business travelers looking to secure their data on the road. Its "Administrator Feature" recognizes enrollment of up to ten unique user IDs and one administrator, further allowing it to function as a secure business collaboration tool.
Weighing just over six ounces, the Aegis Padlock's compact design fits easily in your laptop bag and features a 16-point omni-directional shock mounting system, protecting the drive from drops and knocks. The integrated USB cable eliminates the need for easy to lose cords and allows you to be connected with the flick of a fingertip.
"With the never-ending number of data-breaches and laptop thefts, securing your data is an ongoing priority to both individuals and enterprises," said Mike McCandless, Apricorn's Vice President of Sales and Marketing. "With affordable pricing and simple setup the Aegis Padlock Secure Drive leaves you no excuse to not lock down your data."
System Requirements
Hardware: Powered USB port
Supported Operating Systems: Microsoft® 7, XP or Vista™, Mac® OS 10.2 or greater, Linux
Aegis Padlock is compatible with virtually any system with a powered USB port and ships preformatted in NTFS for Windows support. Depending on the host operating system, users may need to reformat the Padlock to a compatible format.
Availability
Apricorn's Aegis Padlock is currently available for purchase at resellers throughout the US, Canada and online at www.apricorn.com.
Pricing
| | |
| --- | --- |
| | 256-bit AES model |
| 250GB: $99 | 250GB: $119 |
| 320GB: $109 | 320GB: $129 |
| 500GB: $139 | 500GB: $159 |
Warranty
3 Years Limited
Source: Apricon