ASUS, producer of leading ADSL networking solutions, announced the ASUS DSL-N11 Wi-Fi ADSL 2/2+ modem router. Incorporating a 300gMbps Wi-Fi 802.11n wireless router with an embedded ADSL2/2+ modem, the DSL-N11 allows users to enjoy the versatility of both connectivity options for fast data transfer and Internet access.
Furthermore, it features the new ASUS EZ UI, a powerful graphical user interface (GUI) for Wi-Fi ADSL products that allows easier router installation and network management. The EZ UI present on the ASUS DSL-N11 brings together the following features: Quick Internet Setup (QIS), Network Map, Dr. Surf and EZQoS (Quality of Service), all controlled and managed under a single, easy-to-use user interface.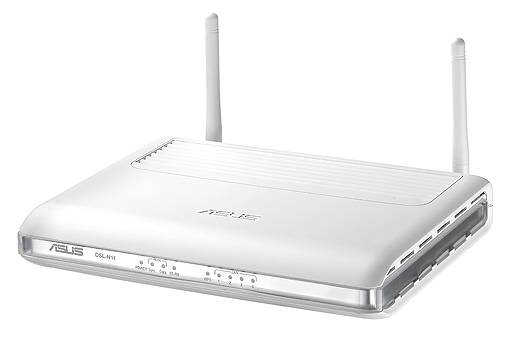 Versatile Networking Connectivity
The ASUS DSL-N11 is a 2-in-1 device that delivers comprehensive wireless/wired Internet connection sharing. Equipped with a 300gMbps Wi-Fi 802.11n wireless router and an embedded ADSL2/2+ modem, users can enjoy quick data transfers and fast Internet connections to suit their individual needs. The ADSL port also supports both ADSL 2 and 2+ standards, allowing for higher connections speeds for smoother data transfers.
Breeze Through Lengthy Setup Procedures with QIS
The ASUS QIS automates setup procedures for ADSL network devices by automatically detecting local ADSL settings (VPI, VCI) and Internet connection types (PPPoE, DHCP, PPPoA etc)—eliminating the need for guess work or reference to complex manuals. Apart from that, it also comes ready with a foolproof, easy-to-follow setup guide to take users through the entire setup process, with users only required to open the browser and key in the user name and password provided by the ISP.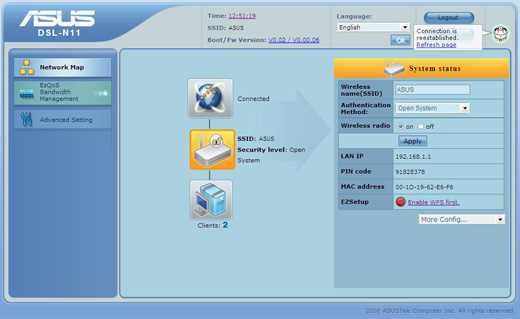 Get the Big Picture with Network Map
Compared to complicated text user management interfaces from other solutions, the ASUS Network Map provides users with a straightforward and easy-to-use GUI that displays a complete overview of the network device map and network status. With Network Map, users can glean useful information such as the WAN/LAN connection status, SSID and encryption level, and even how many wired and wireless devices connected, all at a glance. Users can even utilize the simple icon interface to issue router functions—allowing first-time users to finish setting up the router without the need to read complex user manuals.
Real-time Diagnostics with Dr. Surf
Dr. Surf is a helpful application that is able to automatically detect the different types of Internet connection and offer real-time diagnostics. It is capable of displaying a comprehensive device map with connected devices and allows simple encryption settings for helpful troubleshooting. When users encounter connection problems, instead of just showing an error page on the browser page, Dr. Surf shows the user possible connection problems, and offers solutions to help them troubleshoot and complete their connection to the Internet.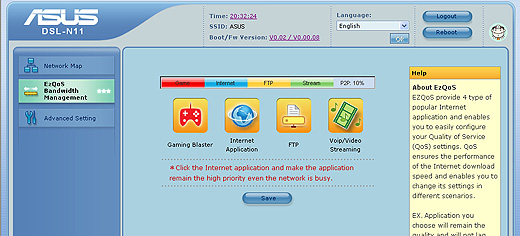 EZQoS –Prioritized Bandwidth Usage for Lag-free Applications
With EZQoS, users can easily allocate bandwidth according to their individual needs by simply clicking on buttons such as "Voice" or "Gaming" to assign more or less bandwidth to streamline multiple network activities. This allows users to smoothly utilize various applications (FTP, Games, P2P) at the same time—providing uninterrupted and lag-free IP phone conversations, gaming and smooth A/V streaming.
Specifications
Hardware
Interface
– 4 x 10/100Base-TX MDI/MDIX RJ-45 ports
– 1 x inner pair RJ-11 ADSL port
– IEEE 802.11b, IEEE 802.11g, draft IEEE 802.11n compliant
Power Adaptor
– Input: 220V (tolerance 207V~254V)
– Output: 15V/0.8A
– Power consumption: 12W
Antenna
2dBi * 2
Wireless LAN
Wireless
Data Rate:
– Draft 802.11n:
20MHz BW: 150, 130, 117, 104, 78, 52, 39, 26, 13 Mbps
40MHz BW: 300, 270, 243, 216, 162, 108, 81, 54, 27 Mbps
– 802.11g: 54, 48, 36, 24, 18, 12, 9 and 6 Mbps
– 802.11b: 11, 5.5, 2 and 1 Mbps
Operating Frequencies: 2.4-2.5 G Hz
Channel Numbers:
– 11 for North America
– 13 for Europe
– 14 for Japan
Output Power:
– Draft 802.11n: 13.5–16.5 dBm
– 802.11g: 13.5–16.5 dBm
– 802.11b: 16.5–18.5 dBm
Peak Gain: 2.0 dBi Typical
Encryption
– 802.11e WLAN QoS
– WPS support
– 64/128-bit WEP engine
– MAC address ACL
– AES-CCM/CCMP engine
– WPA-PSK
– WPA2 personal – PSK
– WPA2 Mixed Mode – PSK
– 802.1x RADIUS
– EAP encapsulation over LANs w/ RADIUS client
ADSL
ADSL
ADSL standards:
ANSI T1.413 Issue 2
ITU-T G.992.1 (G.dmt)
ITU-T G.992.2 (G.lite)
ITU-T G.994.1 (G.hs)
ADSL2 standards:
ITU-T G.992.3 (G.dmt.bis)
ITU-T G.992.4 (G.lite.bis)
ADSL2+ standards:
ITU-T G.992.5 Annex A/L/M
Software
Management
– Web-based GUI configuration
– Firmware upgraded, configuration data uploaded and downloaded via Web-based GUI
– UPnP IGD 1.0
– Auto VPI/VCI detection
– Configuration backup and restore
– Diagnostics
– Log & Trace function
Network Protocols and Features
– Ethernet to ADSL Self-Learning Transparent Bridging
– IP Static Routing
– Network Address Translation (NAT)
– NAT ALG
– Dynamic Host Configuration Protocol (DHCP); DHCP server, client, and relay
– DNS Relay, DDNS
– IGMP/IGMP proxy
– Simple Network Time Protocol (SNTP)
– EzQoS support
Security
– Built-in NAT firewall
– MAC Filtering
– Packet Filtering
– URL Content Filtering (keyword filtering)
– Stateful Packet Inspection (SPI)
– Denial of Service prevention (DoS)
– Intrusion Detection System/Log
– User Authentication PAP
– User Authentication CHAP
– DMZ
– VPN (IPSec/PPTP/L2TP) pass-through
Source: Asus