DFI  announces a new ECX SBC – ML936-B16C, based on the new options for the low power Intel® Atom™ processor Z530P platform – specifically, the Intel® Atom™ processor Z530P at 1.6GHz and the Intel® US15WP SCH single chip. The Embedded Compact Extended (ECX) form-factor is an Intel® open standard with board dimensions of 105 mm x 146 mm (4.14" x 5.75").
Featuring Intel® Hyper-Threading, Intel® Virtualization and Enhanced Intel® SpeedStep® technologies the ML936-B16C is ideal for thermally-constrained fanless embedded applications requiring x86 SBC with configuration flexibility. Intel's 45nm Hi-k metal gate silicon technology used on this Intel® AtomTM processor and chipset platform reduces power consumption to less-than five watts, while boosting switching speed and transistor density over previous 65nm technology. A single 12 V DC power input on the ML936-B16C SBC simplifies configuration in embedded applications, and further reduces system cost.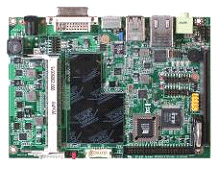 "The latest Intel® Atom™ processor Z530P at 1.6GHz enables DFI to fulfill our customer's low power requirements with a stable revision-controlled platform having guaranteed long-term with 7-year long lifecycle support availability." said Andy Lu, Managing Director of DFI.
"Intel now offers the Intel® Atom™ processor Z5xx series platform in two package sizes, providing a variety of design options for embedded applications," said Jonathan Luse, Director of Marketing, Intel Low Power Embedded Products Division. "This helps application engineers streamline the development cycle and reduce time to market for a variety of low power, fanless embedded systems."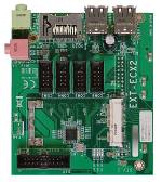 The new DFI ML936-B16C ECX SBC utilizes one 200-pin SODIMM socket supporting up to 2GB DDR2 400/533MHz system memory. There is an integrated Intel® Graphics Media Accelerator (GMA) 500 within the Intel® SCH US15WP and the DFI SBC supports one DVI-I output connector (DVI-D signal only) and an LVDS interface for 18-bit or 24-bit TFT panels. In addition, this motherboard includes a PCI Express Gigabit LAN controller, DC-in 12V jack, four USB 2.0/1.1 ports, two Serial COM ports, CompactFlash socket, one SDIO/MMC socket, and IDE Ultra ATA 33 interface supporting two devices.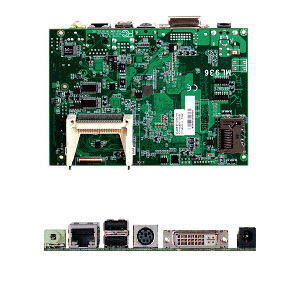 To provide additional I/O capability, DFI has implemented an expansion daughterboard option for the ML936-B16C. The first expansion daughterboard is EXT-ECX2, providing one mini PCI Express x 1 slot, four USB 2.0 ports, four serial COM ports, one 8-bit Digital I/O connector, one SDIO/MMC socket, and audio interface for line-in and mic-in. In addition, the expansion daughterboard provides a cost-effective means for accommodating customer-specific requirements, including proprietary circuitry.
This new DFI product is a low-power embedded solution for applications such as digital signage, ATM/POS terminals, kiosks, industrial automation and control, gaming, medical diagnostics & health care, interactive client, and security.
ML936-B16C Features:
ECX form factor
Intel® Atom™ processor Z530P 1.6GHz
Intel® System Controller Hub US15WP
Up to 2GB of 1 DDR2 400 / 533MHz SO-DIMM
Integrated Intel® Graphics Media Accelerator 500
1 PCI Express Gigabit Ethernet LAN Controller
1 Compact Flash Socket
1 SDIO/MMC socket
2 IDE Ports
1 DVI-I Port (DVI-D signal only)
1 LVDS Interface (18 or 24 bits, max)
2 Serial COM Ports
4 USB 2.0/1.1 Ports
1 DC-in 12V jack
Audio (Mic-out)

Optional EXT-ECX2 Expansion Daughterboard Features:

1 Mini PCI Express x1 slot
4 USB ports
1 8-bit Digital I/O connector
1 SDIO/MMC socket
4 COM connectors
Audio (Line-in and Mic-in)
Product link: Here


Source: DFI