The leading provider of workplace safety solutions, Graphic Products Inc, introduced today the DuraLabel 4000 Label and Sign Printer.
"The DuraLabel 4000 labeler is specifically designed to give our small and medium customers a low-cost way to get all of the benefits of having a DuraLabel sign and label printer with a low startup cost," said Stacy Foos, director of research development at Graphic Products. "It's a smart, economical concept, because as those customers continue to grow, they can then trade in their DuraLabel 4000 toward a system designed for larger facilities."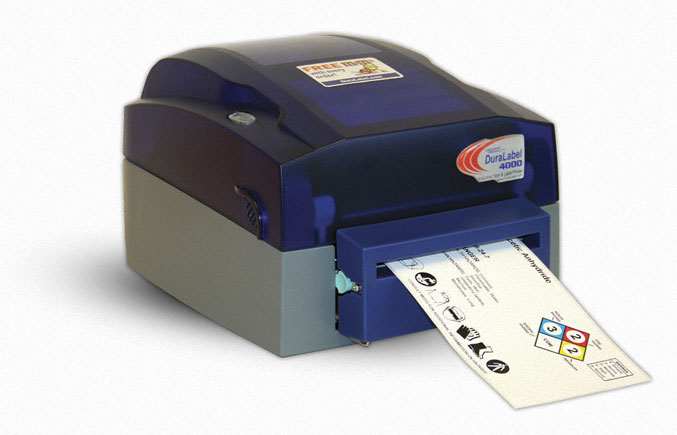 With speeds up to three inches per second and also clear 203 dpi resolution, the DuraLabel 4000 label and sign printer can produce 1″ to 4″ width labels and signs for applications like chemical hazards, 5S labeling, electric panels, and more.
The DuraLabel 4000 label and sign printer can be equipped with two cutter option choices, which are manual cutter and automatic cutter. Stacy Foos stated that this is one of the more expensive parts of the label printer that facilities will have to select when purchasing.
"It may seem simple, but the cutters are really a highly engineered precision cutting tool. A manual cutter gives us the ability to greatly reduce the initial cost of the printer for the customer, yet the option to upgrade to the automatic cutter at any time is available to them," said Foos.
The new DuraLabel 4000 label and sign printer is compatible with Windows 2000, Windows XP, Windows Vista, and Windows 7 operating systems, while utilizing the USB 2.0 interface. It comes bundled with the DuraSuite Labeling Software.
Specialty labeling supplies for the DuraLabel 4000 label and sign printer include the following:
Arc Flash Die-Cut Labels
RTK Die-Cut Labels
High-Tack Tape
Two-Color Vinyl
Self-Laminating Wire Wrap
Oily Surface Tape
Cold Storage Tape
Tamper-Evident VOID Tape
Phosphorescent Tape
Reflective Vinyl Tape