Forty years ago today, on July 20, 1969, the world watched as the crew of Apollo 11 took the first human steps on the surface of the Moon. In celebration of this historic occasion, Google is launching Moon in Google Earth, an interactive 3D atlas of the Moon, viewable with Google Earth 5.0. Moon in Google Earth was announced today at the Newseum, in Washington, DC, where Apollo 11 astronaut Buzz Aldrin, Google Senior VP of Engineering Alan Eustace, NASA Deputy Administrator Lori Garver, A Man on the Moon author Andrew Chaikin, and space tourist Anousheh Ansari delivered remarks.
With Moon in Google Earth, users can explore a virtual Moonscape, follow guided tours from astronauts Buzz Aldrin (Apollo 11) and Jack Schmitt (Apollo 17), see the latest rover concepts by teams competing in the Google Lunar X-PRIZE, view high-resolution 'street View' style panoramic photos, watch previously unreleased video footage captured from the lunar surface, and much more. Moon in Google Earth will also incorporate a complete lunar terrain data-set by Kaguya LALT, produced by JAXA/NAOJ, which will serve as the atlas' base-map. Whether they are rediscovering the iconic moments in the history of Moon exploration or learning about them for the first time, Moon in Google Earth enables users to better understand the Moon, and our relationship to it, with an immersive, 3D experience.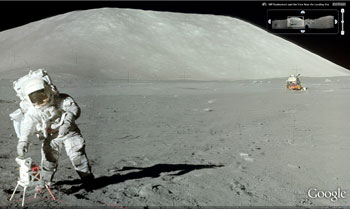 "Forty years ago, two human beings walked on the Moon. Starting today, with Moon in Google Earth, it's now possible for anyone to follow in their footsteps," said Moon in Google Earth Product Manager, Michael Weiss-Malik. "We're giving hundreds of millions of people around the world unprecedented access to an interactive 3D presentation of the Apollo missions."
The most recent tool to have been developed as a result of the Space Act Agreement between Google and NASA, Moon in Google Earth enables information about the Moon to be accessible to anyone in a unique three-dimensional context.
"Today's announcement builds on the ongoing relationship with Google that Ames Research Center initiated in November 2006 when we signed a Space Act Agreement to foster collaboration with our Silicon Valley neighbor," said S. Pete Worden, Director of NASA Ames Research Center, Moffett Field, Calif. "We're excited to be a part of this latest chapter in Google's efforts to bring virtual exploration of the Moon to anyone with a computer."
In addition to satellite imagery and terrain, the following layers can be explored with Moon in Google Earth:
Featured Satellite Imagery – Explore overlaid satellite imagery and detailed descriptions of selected areas on the Moon from Arizona State University's "Lunar Image of the Week"
Spacecraft Imagery – View selected imagery captured by the Apollo Metric Camera, Clementine, and the Lunar Orbiter.
Apollo Missions – Travel back to the Apollo era and discover the landing sites of Apollo missions 11-17. Explore "Street View"-style panoramic images, watch previously unreleased footage from Spacecraft films , and read about the places astronauts saw on their trips to the Moon.
Guided Tours – Take a narrated tour of the Moon from Apollo astronauts Buzz Aldrin (Apollo 11) and Jack Schmitt (Apollo 17).
Historic Maps – Discover Apollo-era geologic and topographic maps of the Moon that were used in mission control for trips to the Moon.
Human Artifacts – Learn about the various types of exploratory equipment that humans have left on the Moon and where those objects can be found today. Artifacts from the United States, the Soviet Union, China, the EU, Japan, and India are included, some of them as 3D models.
To experience Moon in Google Earth, open Google Earth 5.0 and switch modes from "Earth" to "Moon" on the top toolbar. To learn more about Moon in Google Earth, visit http://earth.google.com/moon. Google Earth 5.0 can be downloaded at http://earth.google.com/.
For more information, have a look at our blog posts on the Official Google Blog and the Google Lat Long blog
Our site for media can be viewed here: https://sites.google.com/a/pressatgoogle.com/mooningoogleearth/
You can also get broadcast quality b-roll at the Newmarket
Source: Google Press Center