CompuLab introduces fit-PC2 – the smallest, most power-efficient Intel Atom PC to date.
The most striking feature of fit-PC2 is its size – 4″ x 4.5″ x 1.05″ – smaller than a CD.
fit-PC2 architecture is what sets it apart from other nettop PCs – fit-PC2 is designed around the Intel Atom Z530 1.6GHz and the ultra low power Intel US15W system controller hub, rather than the Atom N270 and 945G used in other nettop-PCs, thereby reducing power consumption by more than two thirds.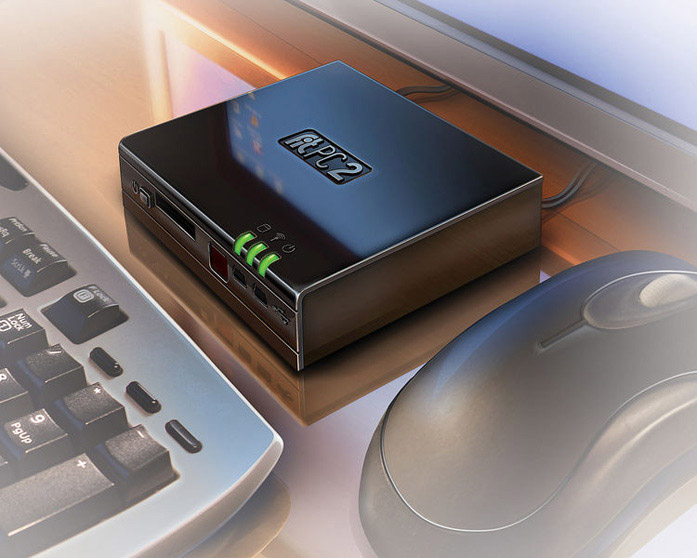 US15W incorporates hardware video acceleration. This allows fit-PC2 to run Windows XP or Ubuntu Linux at just 6W and to play full HD 1080p H.264 video using less than 7W.
Features
CPU
* Intel Atom Z530 1.6GHz / Z510 1.1GHz
Chipset
* Intel US15W SCH
Memory
* 1GB DDR2-533 on-board
Storage
* Internal bay for 2.5″ SATA HDD
* miniSD socket
Display and Graphics
* Intel GMA500 graphics acceleration
* Full hardware video acceleration of H.264, MPEG2, VC1, and WMV9
* DVI Digital output up to 1920 x 1080 through HDMI connector
Audio
* High definition 2.0
* Line-out, line-in, mic
Networking
* 1000 BaseT Ethernet
* 802.11g WLAN
USB
* 6 USB 2.0 High Speed ports
IR
* Programmable consumer IR receiver
Software
BIOS
* Phoenix BIOS
* Bootable from HDD, USB thumb drive, USB CDROM, USB hard disk, over network
Operating Systems
* Windows XP Home SP3
* Ubuntu Linux 8.04
* Other operating systems can be installed by user
Mechanical and Environmental
Case
* 100% aluminum
* Die cast body
Dimensions
101 x 115 x 27 mm 4″ x 4.5″ x 1.05″
Weight
* 370 grams / 13 ounces – including hard disk
Operating Temperature
* 0 – 45 deg C with hard disk
* 0 – 70 deg C without a hard disk
Power
* 12V single supply
Power Consumption
* 6W at low CPU load
* <7W at 1080p H.264 playback
* 8W at full CPU load
* <1W at standby