ADATA is bringing a new solid state drive which offers mSATA connectivity and is aimed to be used super-slim notebooks, tablets and other portable devices.
AData's XM13 mSATA solid state drive measures 50.95 x 30 x 4mm, weighs just 7g and is available in 30GB and 60GB capacities. It is equipped with SandForce SF-1200 series controller and 25nm MLC (multi-level cell) NAND Flash memory. It offers a SATA 3.0 Gbps interface, IOPS (random access) speeds up to 12,500, has a MTBF of 1.2 million hours and can deliver read speeds of up to 280MB/Sec and write speeds of up to 260MB/Sec.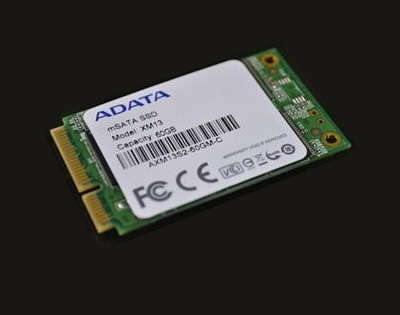 The XM13 mSATA solid state drive is expected to be available with prices ranging from $70 to $80 for the 30GB, and $125 – $135 for the 60GB version.