Kingston Digital, Inc., the Flash memory affiliate of Kingston Technology Company, Inc., the independent world leader in memory products,  announced it will ship its second generation SSDNow V Series solid-state drive (SSD) on February 15. Targeted for mainstream consumers and small and medium businesses, the new Kingston® SSDNow V Series offers higher performance than its predecessor and supports Windows® 7 TRIM functionality while maintaining pricing. Capacities are 30GB, 64GB and 128GB and the drive comes as a standalone unit or with a bundled solution for desktop or notebook systems.
"Kingston has really increased the performance on the new second generation SSDNow V Series drive without raising the price. A first-generation SSDNow V Series 64GB bundle upgrade kit can be found for about $150 (U.S.) at retailers and e-tailers so maintaining pricing will be huge for our customers," said Ariel Perez, SSD business manager, Kingston. "By bundling together all of the software, hardware and step-by-step instructions with the drive, we make it easy for everyday users to upgrade with an SSD. The addition of TRIM support is a key benefit because it enables the SSD to maintain optimal performance throughout its lifespan."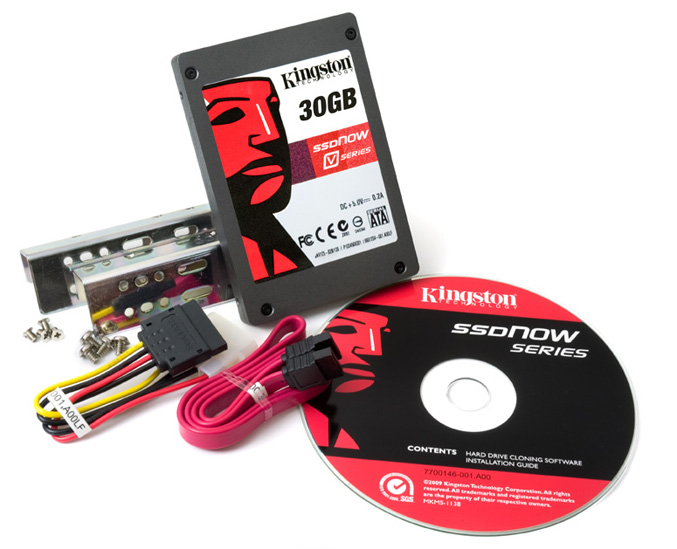 Kingston's SSDNow V Series upgrade bundles are the simplest, most efficient upgrade path to inject new life and performance into an existing desktop or notebook PC. There is no need to reload the operating system or do anything that would alter critical data files. The included cloning software makes it simple to move the contents of the existing hard-disk drive (HDD) to the SSD.
The SSDNow V Series upgrade bundle kits include:
Kingston SSDNow V Series solid-state drive

Acronis® True Image cloning software and CD installation guide

3.5″ mounting brackets and hardware (desktop bundle only)

SATA data and power cable extenders (desktop bundle only)

2.5″ USB SATA external enclosure (notebook bundle only)

The Kingston SSDNow V Series and bundle are backed by a three-year warranty, 24/7 tech support and legendary Kingston reliability. For more information visit www.kingston.com.
Kingston SSDNow V Series Features and Specifications:
Sequential Speed*:

128GB: up to 200MB/sec. read; 160MB/sec. write

64GB: up to 200MB/sec. read; 110MB/sec. write

30GB: up to 180MB/sec. read; 50MB/sec. write

PCMark® HDD 2005**:

128GB: 20,177

64GB: 21,317

30GB: 18,900

Performance: enhances productivity; makes users more efficient
Innovative: 2.5″ form factor; uses NAND Flash memory components
Silent: runs silent and cool with no moving mechanical parts
Reliable: less likely to fail than a standard hard drive
Shock Resistant: no moving parts so the SSD handles rougher conditions than a hard drive
Supports TRIM: TRIM notifies the SSD which data blocks are available to be written to
Supports S.M.A.R.T.: Self-Monitoring, Analysis and Reporting Technology
Guaranteed: backed by a three-year Kingston warranty, 24/7 tech support
Capacity†: 30GB, 64GB, 128GB
Storage temperatures: -40° C to 85° C
Operating temperatures: 0° C to 70° C
Vibration operating: 2.17G (7-800Hz)
Vibration non-operating: 20G (20–2000Hz)
Power specs: 128GB, 64GB Active: 5.2W (TYP); Sleep: 0.7W (TYP)


30GB Active: 1.7W (TYP); Sleep: 0.05W (TYP)

Life expectancy: 128GB , 64GB: 1 million hours MTBF


30GB: 500,000 hours MTBF
Source: Kingston