Following their success of dual interface 2.5″ SATAII SSD M10,Silicon Power unleashes the ultra fast 2.5″ SATAⅡ E10 SSD. Utilizing in-house developed technology to dramatically increase E10's transfer rate up to 230MB/sec read and up to 150MB/sec write.
With 0.2ms latency, it translates into a smoother system response, faster boot time and prompt program executions. It is the prefect performance boost for desktop or laptop computers. Silicon Power's E10 not only have the performance but also the look to match! Unlike other SSDs labeled with a simple sticker, E10's casing has chequered holographic patterns that depend on light reflections and exhibit different textures. With its ultra light weight, it hardly adds on or does not add on additional weight at all.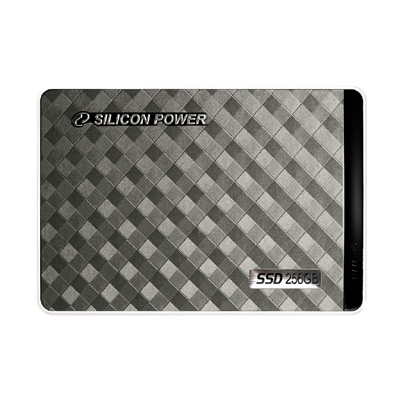 Silicon Power's 2.5″ series SSD are all of standard dimensions. They can be easily installed on desktop, laptop or any other systems that utilizes 2.5″ hard drives. Using high grade controllers and quality flash modules, SSDs consumes minimum power, noiseless when in operation, shock and vibration proof. With no mechanical or moving parts, SSDs failure rates are dramatically reduced. In addition, coupled with Error Correcting Code (ECC) and Wear Leveling technology, they can effectively extend lifespan and ensure exceptional stability. Silicon Power SSDs is the only and perfect solution when it comes to upgrading traditional hard drives.
Feature
Standard 2.5-inch SSD, compatible with SATA interface (SATA I/ II)
High quality case and high-speed data transfer
Built-in ECC (Error Correction Code) functionality and wear-leveling algorithm ensures highly reliable of data transfer
Low Power Consumption
Shock resistance
No noise, no latency delay and no seek error
RoHS Compliant
Capacities:32GB/64GB/128GB/256GB
Specification
Dimensions: 100mm X69.85mm X9.5mm
Weight: 70g
Durability:10,000 insertions(minimum)
Power Requirement:4.5V~5.5V
Vibration:15G peak-to-peak max
Shock: 1500G max
2years warranty
Performance:
MLC – Read up to 230MB/s, Write up to 150MB/s(*1)

Source: Silicon Power