Team Group Inc launches the brand new Color Turn USB disk as the best mobile storage solution. Integrating the novel turning body, confident colors, full performance, and high capacity, Team turns technology products into joy for users to change their mind as ideas go with great ease and confidence.
The Color Turn adopts the cap-in-body design. With just a slight push, you can use it in whatever way that pleases you, and you will never have to worry about losing the cap. The Color Turn comes in 3 colors: earth green, elegant purple, and prudent brown, refreshing and uncommon, showing the LOHAS attitude. Also, the Color Turn comes in a full capacity range from 2GB ~ 32GB. Based on personal needs, consumers can choose any model to store and read any documents, media files, digital photos, and MP3 files. With the high-speed-transfer USB2.0 interface, consumers can store and organize any file and precious moment in life in an instant.
Team Group Inc. is a leading manufacturer of memory storage products, and provides the ultimate solution to satisfy consumer need for storing and sharing media and data. Team Group offers a lifetime warranty and repair/replacement service on all memory cards. For more product information, please visit the Team Group website at www.teamgroup.com.tw.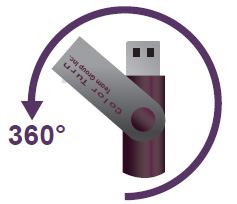 Team Color Turn Specification
Item
Specification
Model
Color Turn(E902)
Capacity
2GB、4GB、8GB、16GB、32GB
Color

Earth green、Elegant purple、Prudent brown

Interface
USB 2.0
Power source
DC 5V
Reading / Writing
Reading:10~15MB/Sec ; Writing:3~8MB/Sec
*Note: Speed may vary due to hardware , software and usage
Dimensions
55mm、17mm、9.1mm
Operating system
Windows ME/2000/XP/Vista、Linux 2.4、Mac under the Operating system not have to use the driver
Hot Plug
Yes
LED Reveal
Yes
Weight
11g
Storage time
>10Years
Other
Support battery saving mode
Warranty
Lifetime warranty
Source: Team Group