HP today launches 20-inch  TouchSmart 300 and 23-inch TouchSmart 600 All-in One PCs.  The new sleek PCs are accompanied by a wireless keyboard and mouse, also features HDMI, composite video ports, swivel stand and tilt webcam.
"Since the launch of the first TouchSmart PC nearly three years ago, we've worked closely with a growing number of software companies and independent vendors to develop built-for-touch applications that give consumers and businesses rich interactive multimedia experiences," said James Mouton, senior vice president and general manager, Desktop Global Business Unit, Personal Systems Group, HP. "These collaborations have helped to make HP touch computing the most advanced touch experience in the market today."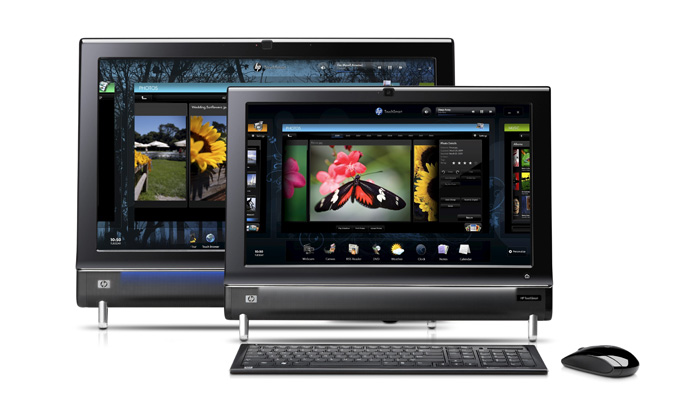 HP TouchSmart PCs feature exclusive built-for-touch applications including:
Hulu Desktop to provide quick access to Hulu's vast library of hit TV shows, movies and video clips. Users can browse, search and watch their favorite comedies, dramas, sci-fi and web-original shows from nearly 200 leading content companies. Users with Hulu.com accounts also can access their queue, subscriptions and viewing history.
A touch-enabled Netflix application delivers thousands of full-screen TV episodes and movies that are streamed from Netflix over the Internet. Using HP's signature fan view, Netflix members can instantly watch a move from their Instant Queue on the PC or remove a movie from their Queue via touch. Netflix members also can rent DVD and Blu-ray discs as well as edit and manage their Netflix accounts using the application. A two-week free Netflix trial is available to all TouchSmart users in the United States.
Twitter, a free social networking and micro-blogging service, makes it easy to catch up with family, friends and colleagues with the touch of a finger.
With Rhapsody as the engine, the new HP Music Store gives users streaming, on-demand access to 8 million songs delivered to the new TouchSmart PC. Customers who subscribe to Rhapsody can enjoy favorite artists, create playlists or just sit back and listen. Non-members can enjoy a free 14-day trial.
Pandora Internet radio is now touch enabled for a free personalized music experience to find new music based on old and current favorites.
TouchSmart RecipeBox lets aspiring chefs discover, explore and keep track of recipes saved from multiple websites and cook with a hands-free experience via voice commands.
TouchSmart Live TV allows quick access for watching and recording live, local TV. Customers can set recordings in advance of their airing via an electronic programming guide.
TouchSmart Canvas allows customers to organize their photos on a virtual canvas to quickly and easily create photo collages using touch to edit and rotate photos.
TouchSmart Link allows the transfer of photos and images taken by a mobile device to the TouchSmart PC via Bluetooth® wireless technology.
The HP TouchSmart 300 starts at $899 and is expected to be available Nov. 1, while TouchSmart 600 starts at $1,049 and is expected available Oct. 22.
Source: HP