Do you like to break things?-check. Do you want to earn some cash – check. Do you have a giant Ork battle hammer?- No. Don't worry. If you have any other idea to test how durable are Kingston's SSD drives, you can win $3,000.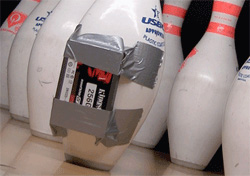 Kingston Digital announced the SSD Destructo Challenge and all you need to do is to submit your ideas on how to destroy one of their solid-state drives. A total of 16 prizes will be awarded, with the Grand Prize of $3,000 or a trip to Kingston to be on set during the shooting of Destructo II. Additional prizes include cash awards of $1,000 and $500, VIP gift baskets and Kingston memory products.
To enter the contest, you must simply click  "Like" at Kingston facebook page, and submit your ideas in 300 words or less on Kingston's Facebook discussion tab.  The SSD Destructo Challenge runs through November 5, 2010. There is no purchase necessary to enter or win.
Complete rules can be found here.