AOC and DisplayLink have launched a new 15.6-inch portable monitor, targeted at users running multiple applications on their PC or laptop.

The monitor plugs into an existing USB 2.0 port and supports a maximum resolution of 1366×768 at 60Hz. It does not need an additional power source as it is powered directly through a USB port, which means it can feed off a laptop's battery power when out and about.
Codenamed "e1649fwu", the monitor uses a DL-125 chip, supplied by DisplayLink and comes with display technologies created by AOC.
"With DisplayLink technology, AOC was able to rapidly bring to market this productivity-enhancing, versatile monitor for both mobile professionals and the home office user," said Robert Velez, head of marketing at AOC. "The market for extended displays is growing rapidly, and this offering with its low power consumption, cord-independence and value price makes multi-screen computing more practical than ever."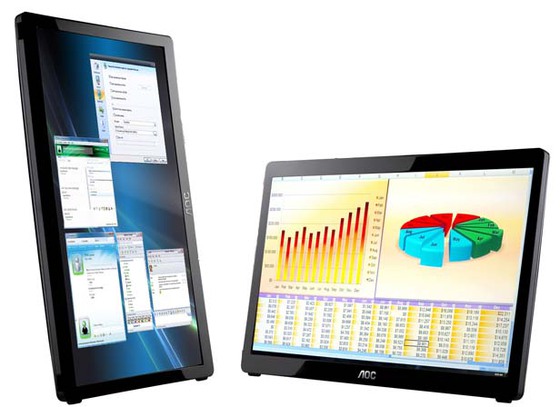 Weight of the novelty is just over two pounds which is comparable to popular tablet computers. On the outside it resembles an iPad or Galaxy Tab with a nice and sleek design.
The monitor also comes with a rotatable stand that allows it to operate just like a picture frame. This makes it possible for the consumer to use it in both landscape and portrait forms with the image adjusting to the orientation thanks to a built-in accelerometer.
The display works under Windows XP, Vista, Windows 7, OS X Tiger, Leopard and Lion. It does not require technical knowledge to work – users just need to plug it into a free USB port.
The monitor is now available in the US only with a price tag of 139 USD.
Source: VR Zone