AOC, one of the top global players in providing the best value display technology, has released a new series of LCD Monitors featuring superior IPS (in-plane switching) panels. The AOC iF23 features a 23" widescreen IPS LCD monitor with both analogue/VGA (15 pin) and digital/DVI (24 pin) inputs. The IPS display panel allows for a super-wide viewing angle of 178 degrees, providing consistent image quality from side viewpoints, and super-high dynamic contrast ratio of 100,000:1.
AOC iF23 LCD Monitor: True Wide, Real Colour
The IPS technology provides both "True Wide" viewing – which offers a consistent image from almost any angle; and "Real Colour" – which allows the image to display with more depth and less colour shift across the screen. These features make the AOC iF23 monitor highly suitable for graphics professionals and any users who value superior image quality.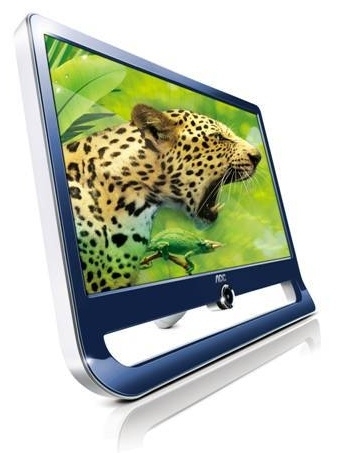 Product Highlights
True Wide
IPS lets users see consistent images from wider viewing angles than other LCD technologies.
Real Colour
IPS panels show more image depth with less colour shift. Almost uniform colour temperature at all points ensures that users see consistent images across the entire screen.
The IPS panel provides a full True Colour palette of over 16.7 million colours without the dithering techniques adopted by other LCD technologies, resulting in more accurate colour reproduction.
Design and practicality
iF23 incorporates the latest design values, with an unusual glossy blue finish. The monitor has an ultra-stylish photo-frame design without a conventional base. The cabinet is supported by AOC's patented single-post stand to provide angle adjustment. It is ergonomic and simple: users can spin the tail to lengthen or shorten the stand. These monitors are sure to satisfy even the fussiest home stylist, fashion designer or style trend-setter, within an affordable budget.
For customers who require further ergonomic flexibility, AOC provides a height-adjustable base (HA24) as an optional accessory.
The IPS panel has a solid surface that is touch-proof: if pressed, it will not create the localized "tailing" or "puddling" phenomena typical of other LCD screens.
HD at your fingertips
The 16:9 widescreen aspect ratio enables true full-screen viewing of Full HD 1920 x 1080p video, eliminating image distortion or annoying black bars.
Placing easy control at the viewer's fingertips, iF23 has a redesigned "Navi Ring" and a graphically appealing on-screen menu display (OSD) with a user-friendly interface, featuring clear colour icons that make it easier to navigate the various display functions.
Key Benefits and Features of the AOC IPS iF23 Monitor
23″ viewable
Microsoft Windows 7 compatible
16:9 widescreen
100,000:1 Dynamic Contrast Ratio
Analogue & DVI-D Input
6 ms response time
Glossy blue finish
Easy-to-use navigation
Product Pricing and Summary
Vendor: AOC
Model: iF23
RRP: AUS$399
Distributor: Altech Computers
Website: www.aocmonitor-anz.com
Availability: April 2010