BenQ today announced the arrival of a new member to its LCD TV family – MK2442, a multifunctional model that is best suited for students or those seeking a second unit for their home.
The debut of 23.6-inch MK2442, which could double as a large-sized monitor for PC users, is BenQ's answer to the market's need where growing numbers of users now expect to enjoy great visual experience from the TVs. They want a slim-screen TV which offers not only the ultimate enjoyment in picture quality, but also comes at a sweet and affordable price point.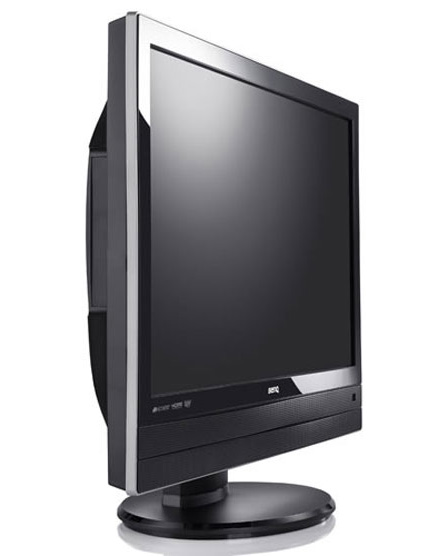 There is untapped potential in worldwide LCD TV market especially in the emerging countries. Up to last year, over 40 percent of home users in Eastern Europe, Middle East, Asia Pacific and Latin America were still watching programs on the traditional CRT units, according to market researcher DisplaySearch's statistics.
By adding MK2442 into its wide array of TV lineup, BenQ is confident in making inroads in the developing markets such as Eastern Europe, where only 40 percent of viewers are tuning into LCD TVs. The leader in networked digital lifestyle is also slated to push MK2442 into developed markets such as Spain, Italy and Nordic, by positioning the model as the second TV or a multifunctional display (smaller TV or larger monitor) to mass users.
The brand new MK2442 boasts 5 ms response time and Full HD 1920×1080. The Full HD feature means that the screen contains twice the picture details of the earlier resolution technology of 1366×768. It is engineered to handle and output a pure 1080p 24Hz signal for nature, high-quality film, giving users real cinema viewing pleasure without distortion of the original picture quality. Senseye Human Vision Technology – a proprietary image enhancement engine that mimics the human eye – enhances the color, clarity and contrast of video content and smoothes out quick images through motion optimization to produce deeper, richer and more detailed images.
BenQ's another exclusive technology – Auto Contrast Enhancement of 10,000:1 – optimizes contrast levels via automatic adjustment of the display backlight for unprecedented black levels. Such contrast precision, perfectly adapted to every individual scene, amplifies dark detail definition to reveal never-noticed elements lurking in the darkest game or move scenes.
In addition, its HDMI 1.3 interface allows uncompressed signals to be translated into the highest quality available.
The model will be first available on August 20 onwards in major European countries including Germany, Spain, Italy, Finland, Norway, Denmark, Sweden, the Czech Republic, Romania, Poland and Russia.
BenQ MK2442 LCD HDTV Specifications
Display
Screen Size
23.6 in.
Display Type
LCD
Resolution
1920×1080
Contrast Ratio
10000:1
Aspect Ratio
16:9
Response Time
5 ms
Input
HDMI Interface
1 x HDMI Interface
PC Mode
Vertical Frequency
24 Hz
Source: BenQ