The manufacturer of high-end computer displays Eizo, reveals its newest multimedia monitor which comes with the new feature called "Smart Resolution" that analyzes both still and moving images for noise and blurring and then adjusts them to appear more clear and natural.
The 23-inch Eizo FORIS FS2332 monitor has IPS/LED backlight panel with native resolution of 1920 x 1080 pixels, viewing angles of 178°, 250 cd/m2 brightness, 1000:1 contrast ratio, 10-bit gamma correction and a response time of 6ms (gray-to-gray). The connectivity interfaces include dual HDMI inputs, one DVI-D, and one D-Sub input. It also packs a dual 0.5 watt internal speakers, a headphone jack, EcoView brightness sensor and comes bundled with remote control.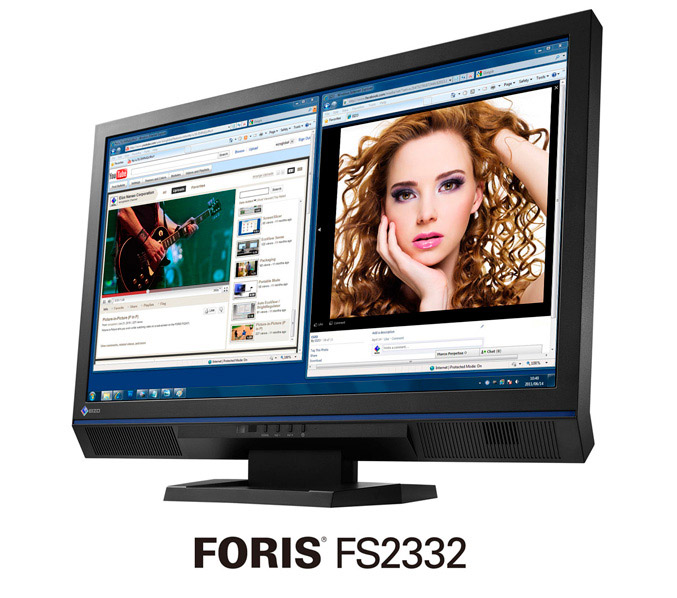 The monitor includes six preset modes,which can be assigned to an application so that when the application is opened, the screen automatically changes to its assigned mode. The incorporated "Smart Resolution" feature, "intelligently" adjusts the image in areas where it is needed- in a web page with both video and text, Smart Resolution may detect that the text should be left as is but the video should be made sharper.

The FORIS FS2332's cabinet design features a long, narrow imprint that runs from side to side across the lower front bezel and the monitor comes with a red, gray, or blue color stripe, allowing you to personalize the appearance of their monitor.
The FORIS FS2332 is backed by a five-year warranty and will be released in July.