LG Display announced, that has developed a full HD 21.5-inch LCD monitor panel featuring optical touch technology. Optical touch panel has infrared ray sensors placed around the panel edge which recognizes the touch of a finger or other input devices. The technology is appropriate for multi-touch and can be applied to large panels at minimal added cost and the mass production is scheduled to begin in the third quarter of 2010.
This LCD panel developed by LG is the first monitor, which has three infrared ray sensors (currently available optical touch panels has two) and according LG, the result is significantly enhanced touch performance. The product demonstrates more than 95% accuracy, whether the screen is touched with a 3mm ballpoint pen or the multi-touch feature is used to zoom in, zoom out or rotate images.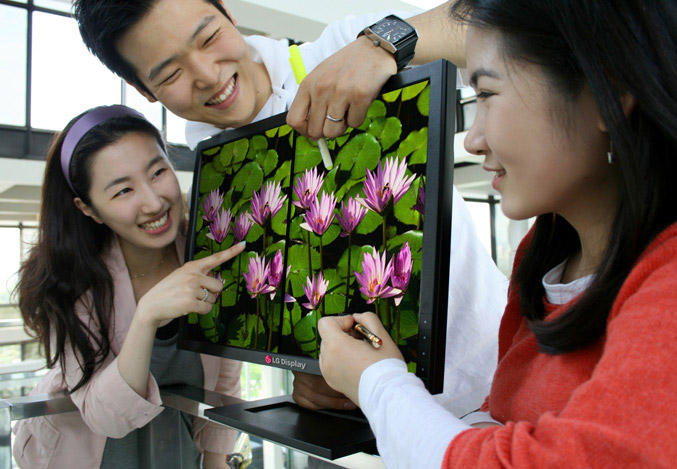 Also the display has a simplified structure, because the infrared ray sensors are embedded directly in the LCD module, opposite to the existing optical touch LCD panels, where the  sensors are placed on a separate glass before being attached to the LCD module. The result: luminance is enhanced by 10%, panel weight is lowered by 1 kg, and the bezel is just 11mm wide (down by 45%) and 20 mm thick (down by 20%), thereby enabling better picture quality with slim and compact design.
LG Display CTO, Dr. In Jae Chung said, "Touch accuracy and enhanced performance are vital for expansion of the touch panel market. The optical touch panel developed by LG Display responds to market needs by delivering world leading touch performance. Demand for touch panels is gradually expanding from small mobile gadgets to larger devices. LG Display will lead the market trends by expanding the touch function to IT applications such as notebook PCs and monitors."
Source: LG