IPS monitors have enjoyed steady growth in popularity and a steady drop in prices and it may be that 2012 becomes the year of the IPS panel.
LG plans to demonstrate an entirely new line of IPS monitors at CES 2012 with models divided into the DM92, DM82, and DM52 series, in addition to the company's D43 3D monitor.
"The quality and technological superiority of LG's 3D display products are second to none, according to the findings of internationally renowned research organizations and respected media outlets," said Havis Kwon, President and CEO of LG Home Entertainment Company. "The 2011 IPS monitor line-up shows LG's commitment to further build upon on this reputation and technological prowess in order to provide consumers with the most immersive home entertainment experience possible."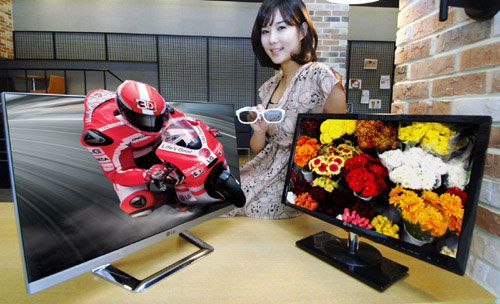 The DM92 series (the left monitor on the picture) will feature a slim bezel with a chrome stand and will come with a 27-inch panel that is best for playing games and watching movies including 3D content.
The DM82 series (the right monitor on the picture) shoots for a chic and futuristic design and comes with a metallic neck supported by a rectangular, slim base. The DM82 monitors will come with 23-inch displays boasting exceptional color tone from any viewing angle and will feature 7W built-in speakers.
The DM52 monitors are 23-inch and 27-inch devices that belong to the budget line of LG IPS monitors. They will be suitable for everyday use by mainstream users and will come with 3D content support and HDMI and USB ports.
Source: Hothardware