The US branch of the Japanese corporation NEC has announced two new professional monitors that belong to the company's MultiSync line. The two new monitors are called EA305WMi and EA275WMi and feature 30-inch and 27-inch displays, respectively, as well as IPS technology, wide 178-degree viewing angles, DisplayPort 1.2 inputs and outputs and NEC's ControlSync technology.
"The new EA305WMi and EA275WMi displays give business professionals new, powerful tools, especially when using multiple monitors," said Art Marshall, Senior Product Manager for Desktop Displays at NEC Display Solutions. "The displays also include NEC's leading environmental and productivity features, as well as NEC-exclusive ControlSync and human sensors."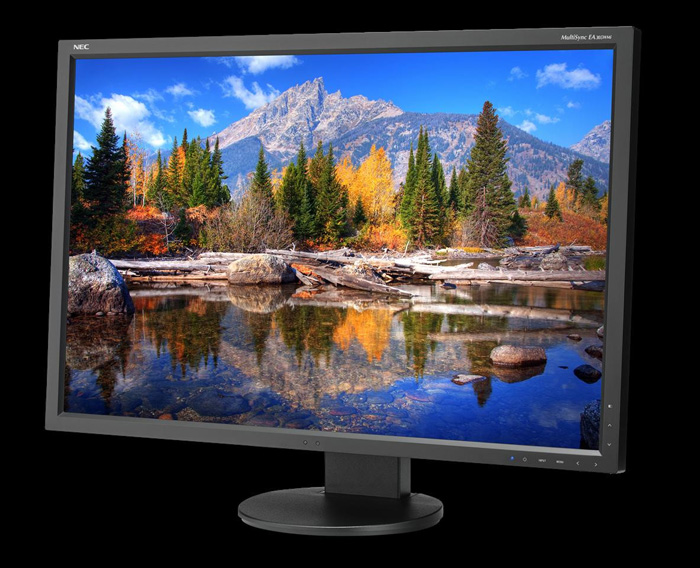 The two new NEC monitors share a lot of the tech specs. They offer widescreen IPS panels with LED backlighting, 350 cd/m2 brightness with 8-bit color, a 20 000:1 dynamic contrast ratio (1000:1 typical), ergonomic adjustable stands with 130 mm height-adjust tilt, swivel and pivot, two 1W integrated speakers, headphone jacks, ECO mode, a carbon footprint meter, a cost meter and compliance with ENERGY STAR 6.0 and TCO 6.0. In addition to all this the NEC MultiSync EA305WMi and MultiSync EA275WMi monitors offer smart sensing technology that automatically detects work conditions to determine the proper display brightness with ambient light and human sensors, 3-port USB hubs, DVI-D connectivity and more. The EA305WMi is perfectly suited for photography, while the EA275WMi is designed for online content development.
Both new NEC monitors will be available later this month for USD 1399 (EA305WMi) and USD 699 (EA275WMi). The monitors come with a 3-year warranty too. The SpectraView II EA Kit, which includes NEC's SpectraView II Software and a Datacolor Spyder 5 calibration sensor, is available as a separate option (minimum advertised price of USD 199) or bundled with the 30-inch monitor as the EA305WMi-BK-SV and the 27-inch monitor as the EA275WMi-BK-SV at minimum advertised prices of USD 1549 and USD 849, respectively.
Source: NEC