The world's leading mainboard and graphics card manufacturer, MSI, is officially launching its 760GTM-P33 which is a response to the business market's demand on multimedia functions.
Based on AMD 760G chipset, this new mainboard integrates ATI HD3000 graphic core and supports DirectX 10 and Hybrid CrossFireX. Besides of these basic features, they also contain the MSI's exclusive APS (Active Phase Switching) power saving technology, TPM header for a save storage of confidential business data and provide realistic sound effects. These all add up to make MSI's 760GTM-P33 an extraordinary product with a unique design particularly made for the business market.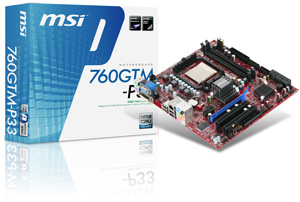 Exclusive power-saving technology–APS
APS, being MSI's own technology, contains an IC chip to automatically control various power supply demands to help to economize the total power usage.
MSI's unique OC Technology–Easy OC Switch
MSI's 760GTM-P33 mainboard integrates Easy OC Switch technology which simplifies the complicated BIOS selections. User can set different settings by switching for different overclocked and underclocked configurations. With a single click, the CPU's performance can increase by 5%~30%, making overclocking easier than ever before.
Business level encryption technology –TPM
Additionally, in the information and data security topic, MSI's 760GTM-P33 also supports business level encryption technology—TPM. Just connect the extra device, your confidential information now could be stored in a very safe and efficient way through the TPM technology.
All solid capacitor on PWM
Furthermore, in order to strengthen the CPU's working stability, many power supplying components are made of solid Japanese solid caps which enable a durable business conference without any undesirable situation. Originated from the AMD 760G chipset
Apart from the MSI exclusive technologies announced above, AMD's 760G chipset has also important contributions. It doesn't only have advanced on board ATI HD3000 graphic core, but also supports DirectX 10 and Hybrid CrossFireX.
More than that, the chipsets are made of low energy wasting design and include also AMD Cool'n Quiet 2.0 power saving technology which will cope with the business milieu. The new SB710 south bridge chip provides 6 ports of SATA and 12 ports of USB allowing a great performance either in power saving or in expanding.
To conclude, MSI's 760GTM-P33 mainboard has very aggregated functions starting with a complete on board multimedia function, followed by efficient power saving technology, secure data storage and industrial specialized features. Accordingly, it is the best choice for your office PCs.
Source: MSI