Asetek Inc., a company designing and supplying liquid cooling solutions for the computer industry, has announced a new and groundbreaking type of slim form factor liquid cooling technology that is to be used in laptops and all-in-one PCs. The new cooling technology will allow manufacturers of these devices to deliver mobility and sleek industrial designs without sacrificing performance.
"We see a growing need for higher performance personal computers, driven by ever more powerful modeling software for engineering, scientific and financial work, and for content creation and gaming," said André S. Eriksen, Founder and CEO of Asetek. "We also see high performance hardware expanding to more portable, sleeker devices like the highly successful M-series of notebooks from Alienware."
"For laptops and AIOs to deliver workstation and gaming PC performance, these machines must be able to take full advantage of desktop grade performance hardware. We have identified this need and designed our cooling solution to target these thinner machines," continued Eriksen.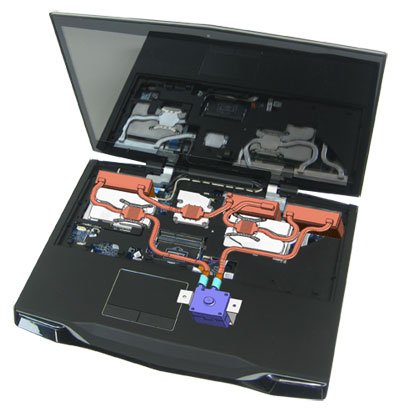 The main problem for utilizing liquid cooling in laptops and all-in-one PCs so far has been the lack of space for a proper thermal solution. To make matters worse, previous attempts at utilizing liquid cooling solutions for laptops did not provide any performance improvement over traditional heat-pipe based heat sinks.
"Asetek successfully cracked the code of improving acoustic and thermal performance in a notebook without increasing the form factor," said Ole Madsen, VP of Engineering. "Our patent protected technology allows better utilization of the thermal modules used to cool the CPU and GPUs. That, along with our optimized coldplate technology enables the use of much more powerful hardware than air cooling could ever allow".
Asetek demonstrated the new liquid cooling technology in an Alienware M18x notebook where the CPU was overclocked from 3.5 GHz to 4.4 GHz and the GPU overclocked from 680 MHz to 800 MHz. In addition, the M18x achieved a 23% improvement in Futuremark's 3D Mark Vantage benchmark while reducing the noise output of the stock air-cooled laptop.
Source: News.Yahoo.com