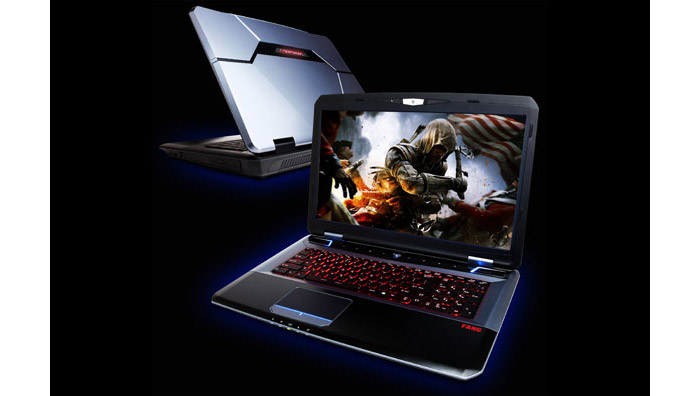 Gamers on the go will soon be able to take full advantage of CyberPowerPC's latest gaming notebook – the FangBook X7.
Available in three versions – FangBook X7-100, FangBook X7-200 and FangBook X7-300 – the latest company product comes with a 17.3-inch display at Full HD resolution for the best gaming visuals. This is where differences start though depending on model.
As expected the FangBook X7-100 is the basic version of the new gaming notebook. It comes with an Intel Core i7-3630QM quad-core Ivy Bridge processor at 2.4 GHz (3.4 GHz in Turbo Mode), NVIDIA GeForce GTX 675MX graphics card with 4 GB of VRAM, 8 GB of DDR3 SDRAM, and a 7200 rpm hard drive with an overall capacity of 750 GB. The FangBook X7-100 is available for USD 1300.
For USD 100 more you can get the FangBook X7-200 – this model offers you 16 GB of DDR3 memory and an additional 64 GB SSD. The rest of the hardware is the same as in the FangBook X7-100.
The FangBook X7-300 is the top configuration of all three – it comes with an Intel Core i7-3630QM processor at 2.4 GHz (3.4 GHz in Turbo Mode), 16 GB of DDR3 RAM, GeForce GTX 680M graphics with 4 GB of VRAM, a 1 TB hard drive and 64 GB SSD drive storage combo and a Blu-Ray optical drive. This one will be yours for USD 1800.
As expected CyberPowerPC offers custom-built FangBook X7 notebooks. If you pay extra you can get Intel Core i7-3840QM (2.8-3.8 GHz) or Core i7-3940XM (3.0-3.9 GHz) processors, a Blu-Ray burner or two SSDs with 480 GB of capacity.
You'll be able to purchase the CyberPowerPC FangBook X7 gaming notebooks at the end of February 2013.
Source: CyberPowerPC