Fujitsu today unveiled its new 2011 line-up of Lifebook notebooks which come with 2nd Generation Intel Core processor and AMD Fusion Brazos platform.  The new range includes laptops form A Series – LIFEBOOK AH531/A531, B series – BH531, E series – LIFEBOOK E751, L series – LIFEBOOK LH701 & LH531, five from S Series – LIFEBOOK SH761/S761 SH561/S561, & S751, three form P Series – LIFEBOOK P771 & PH701/P701, and T Series – LIFEBOOK T901, all running  2nd Generation Intel Core processor, plus the new model LIFEBOOK PH521 which runs on AMD Fusion Brazos platform.

The LIFEBOOK AH531/A531 offer 15.6-inch(1366 x 768) back-light LED display coupled with spill-resistant, full-sized keyboard and 10-key number pad. Specs also include Core i5 proxessors, max 8 GB of RAM,Intel HD Graphics 3000, 640GB HDD, Gigabit Ethernet, 802.11 b/g/n, Bluetooth and plenty input/out put ports. Fujitsu describes LIFEBOOK AH531 as perfect for users yearning for sound gaming performance and home entertainment,  whereas the LIFEBOOK A531 offers a good value as an entry level corporate desktop alternative.
The LIFEBOOK BH531combines "balances mainstream features and portability with affordability," it is boosted by  NVIDIA Optimus technology and 1GB VRAM, it weighs less than 2kg and is available in Shiny Black and Garnet Red.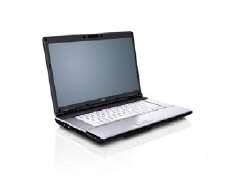 The 15.6-inch LIFEBOOK E751 is a "full-featured computing partner for premium business users", it offers choices of new Intel Core i3, i5 or i7 processorand is equipped with sophisticated security features including the Fujitsu 3D Shock Sensor, Fingerprint Sensor, Trusted Platform Module (TPM) and Intel vPro Technology. Spec-wise – a superFine Full HD back-light LED display, a full convex numeric keyboard for easy typing,  WLAN Integrated DisplayPort, eSATA, serial port, optional USB 3.0, optional embedded 3G/UMTS, Bluetooth and hot swappable bay that allows for the addition of a modular bay battery for enhanced battery life.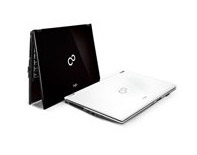 Next are the LIFEBOOK SH561/S561 described as a portable all-rounders, featuring a pragmatic arc design, textured palm rests, and simple elegance. The LIFEBOOK SH561/S561 also comes with the advanced biometric security features, such as the radio-frequency-based Fingerprint Sensor.
The 1.6kg weighting LIFEBOOK SH761/S761 is Fujitsu's technology flagship, equipped with all the essential top-of-the-line features, including the Green 0 Watt AC adapter and Fujitsu's patent pending ventilation system. It comes with SuperFine HD back-light LED display of 300nits and 6200 mAH battery,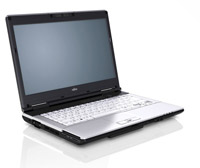 The LIFEBOOK S751 is fitted with 14-inch SuperFine HD back-light LED display, an anti-bacterial keyboard and comes equipped with a Fujitsu 3D Shock Sensor, Fingerprint Sensor, Trusted Platform Module (TPM) and Intel vPro Technology, and full connectivity capabilities.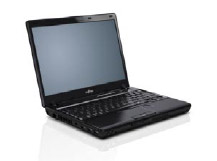 The 12-inch LIFEBOOK P771 for "business professionals" is wrapped with a matte black anti-fingerprint cover, anti-glare screen, all standard interfaces and connectivity features like embedded 3G/UMTS, WLAN and Bluetooth, fingerprint sensor and TPM. Thanks to the modular bay you can extend battery life for working all day.
The 1.5kg LIFEBOOK PH701/P701 LIFEBOOK PH701/P701- designed for mobile users on-the-go,offers 12.1-inch SuperFine back-light LED display, elegant keyboard, a comfortable palm rest, a multi-touch touch pad and one-finger scroll wheel. Available in Glossy Black and Glossy White and the P701 comes in Matt Black and plus Fingerprint Sensor, Trusted Platform Module (TPM) and Intel® vPro Technology, suitable for business users.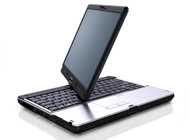 The LIFEBOOK T901 tablet PC is equipped with bi-directional rotatable 33.8 cm (13.3-inch, 16:10) back-light LED display with pen input and multi-touch features.It also packs 2.0 Mega Pixel camera, stereo microphone, wireless display and Wi-Fi capability, and supports the Intel vPro Technology.

The 1.9kg anodized black notebook LIFEBOOK LH701 suitable for  Small and Medium Businesses (SMB) users seeking a desktop alternative. Wrapped in a tough aluminum case with Zen-style curved edges, the 14-inch LIFEBOOK LH701 is lightweight in its class and packs business features, including Fingerprint Sensor and anti-glare screen.
And finally, the 14-inch LIFEBOOK LH531 is a budget laptop designed for everyday. It comes with a high-gloss back cover which is wrapped within a silver lining and is available in Shiny Black, Garnet Red and Cherry Pink. Offers Corei3/i5 processors, up 8GB RAM, up to 750GB storage, BIOS and hard disk locks, Kensington lock, and spill-resistant keyboard and full connectivity capabilities.
"We are now entering a multimedia-centric world where users demand for instant access to stunning and immersive visual, web and gaming experiences – often times all at once. Our latest LIFEBOOK and ESPRIMO line-up, with versatile built-in processors, is tuned to meet the varied preferences and needs of today's customers. While we increase the power levels to achieve performance gains for high-intensity dynamic workloads; we ensure the power and thermal aspects are intelligently optimized at the very same time," says Mr. Lim Teck Sin, Vice President, Product Marketing and Engineering, Fujitsu PC Asia Pacific Ltd.
Source: Fujitsu