Lenovo  announced the industry's first hybrid PC for consumers, the IdeaPad U1 hybrid notebook, featuring a groundbreaking detachable screen. The IdeaPad U1's unique design is engineered to provide consumers with two PCs in one device – each with its own processor and operating system – that work together and independently as either a clamshell laptop or a multitouch slate tablet.
"The IdeaPad U1 hybrid notebook is a game-changing technology in the PC industry that lets user switch their PC experience within a single device to match their dynamic lifestyle," said Liu Jun, senior vice president, Idea Product Group, Lenovo. "By fusing the functionality of a notebook with the slate tablet's rich multitouch entertainment and mobile Internet experience, U1 provides consumers the freedom to choose the device they prefer for any activity."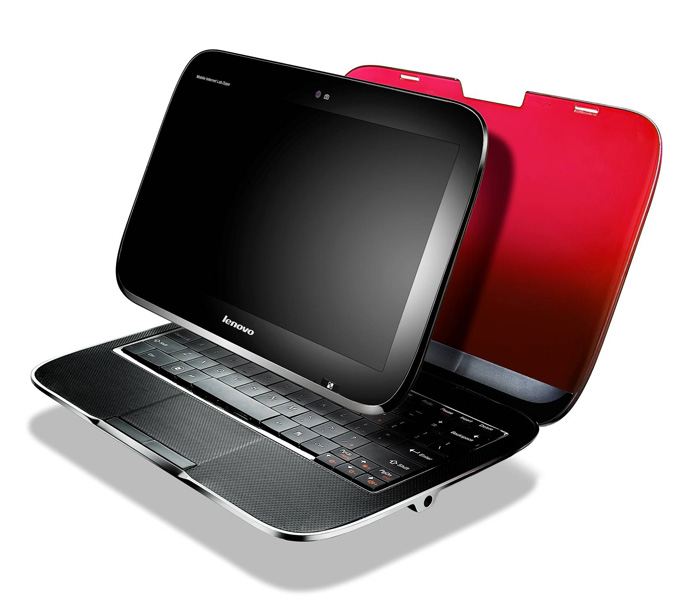 The IdeaPad U1's fashionable scarlet red exterior has a footprint just smaller than a piece of notebook paper and is paired with an equally impressive 3.8 pound thin and light design. With its unique detach-and-converge design, users can easily remove the screen to instantly switch from clamshell mode into a multitouch slate tablet. When the IdeaPad U1 is in its traditional clamshell form, the system boasts an 11.6 inch HD LED screen and runs Windows 7. When the 1.6 pound, multitouch screen is removed, it becomes an independent slate tablet with a powerful ARM processor, running Lenovo's customized Skylight operating system.
Two Brains are Better than One
Leveraging the benefits of both CPU, the two devices can synchronize to work as one with the ability to share battery power, 3G wireless, data and documents. In this way, the base laptop system can serve as a hub and docking station and the slate tablet as a mobile device. The two PCs have been engineered to work together and independently through Lenovo's Hybrid Switch technology that enables seamless toggling between the two processors. For instance, users can surf the Web in laptop mode and then continue from the same point without interruption if they detach to tablet mode.
"Me Centric" User Interface Provides Instant Gratification for Today's Consumers
Lenovo's hybrid notebook also features a customized "Me" centric tablet interface for comfortable landscape and portrait viewing. Users can switch between a six-section display and a four section display. U1's six-section screen display is designed to enhance the mobile internet experience by letting users easily multitouch access multiple Web-based applications at once such as email, calendars, RSS readers and social networking Web sites. The four-section screen display option is perfect as a media center on the PC such as photos, music, videos and to view/edit documents.
IdeaPad U1 Doubles Entertainment Fun
The IdeaPad U1's laptop and tablet modes each support more than five hours of 3G Web browsing and 60 hours of 3G standby. In addition, the U1 comes with integrated video camera and two stereo speakers with integrated microphone with echo cancellation make this the ideal PC for users who need flexibility but do not want to compromise features or functionality.
Pricing and Availability
The Lenovo IdeaPad U1 hybrid notebook will be available June 1, 2010, with an estimated retail price of $999.
Source: Lenovo