Patriot Memory, which recently made headlines with its new Viper line of DDR4 memory modules, has expanded this lineup with the addition of Viper DDR4 SO-DIMM memory. The new memory has been designed to run in notebooks and small form factor computers but despite its small size the Viper DDR4 SO-DIMM can be one serious performer.
The key to the performance offered by the Viper DDR4 SO-DIMM memory modules lies hidden in clock speed – the new memory runs at the impressive 2400 MHz and 2800 MHz but there's no information on the memory latency and the voltage needed. The Viper DDR4 SO-DIMM memory is available in the form of modules with capacities of 8 GB and 16 GB and in dual-channeled kits with capacities of 16 GB and 32 GB. All Viper DDR4 SO-DIMM memory modules come with a special high performance heat shield for superior heat dissipation for stable operation even in very hot days.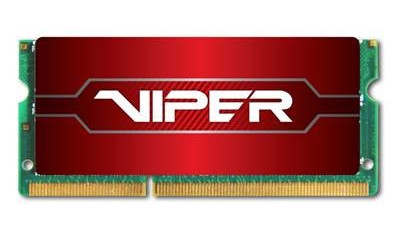 "We are always looking for ways to enhance the experience for PC gamers," Said Les Henry, Patriot's Vice President of Engineering. "With PC Gaming moving to smaller form factors like laptops, our new DDR4 SODIMMs offer a solution without sacrificing performance."
The new Patriot Viper DDR4 SO-DIMM memory supports Intel XMP 2.0 and for those of you interested in this memory we have to say that the Viper DDR4 SO-DIMM will be available for purchase on June 10. The memory will cost from USD 34.99 for a single 8 GB DDR4-2400 stick to USD 169.99 for a 32 GB DDR4-2800 dual-channeled kit.
Source: Patriot Memory