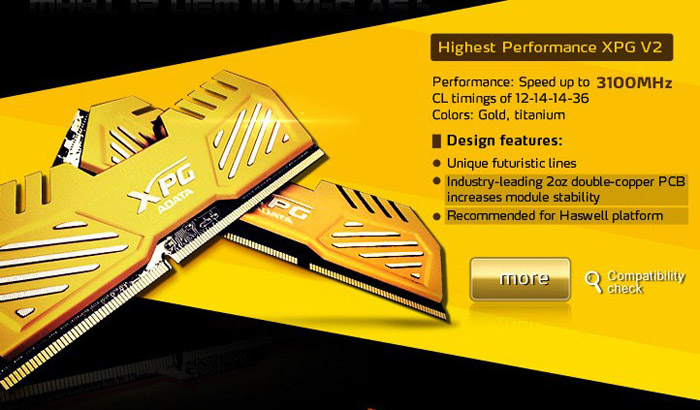 One of the world's famous memory makers – ADATA – has proudly announced the commercial availability of the latest XPG V2 series memory, operating at 3100 MHz for the first time ever.
The new memory has been optimized from the start for the latest Intel Haswell processors and the Intel Z87 chipset and delivers amazing performance in dual-channel configurations. The ADATA DDR3-3100 memory has been developed in partnership with ASRock and is suitable for all Z87-based motherboards with XMP support. Using the XMP profile the memory can be directly clocked to 3100 MHz thus providing bandwidth of 24 800 MB/sec for the best memory performance ever.
Being in full unison with JEDEC standards the ADATA DDR3-3100 memory works at CL9-9-9-24 latencies at 1333 MHz and 1.5V and at CL12-14-14-36 latencies at 3100 MHz at 1.65V. Currently ADATA offers the memory in 8 GB kits (2 x 4 GB). The new company product is cooled by attractively looking aluminum heat sinks in yellow and black and adopts Thermal Conductive Technology (TCT) for improved heat dissipation.
The latest ADATA memory is available now. Pricing is unknown.

Source: ADATA