Alienware has been making extreme gaming PC for years now but it has always been the same old story – you either get a full size desktop or a portable laptop computer. Well, this tough choice is over as gamers can now get a desktop computer that behaves like a portable laptop computer.
But how?
Here's how – Alienware has created the X51 gaming PC that sits in a console-size case yet gives more than enough performance for current and upcoming games.
The new X51 PC is so small indeed it rivals in size the PS3 or Xbox 360. The goal of the new device is to offer high-end gaming, but in a much smaller footprint than a typical gaming rig. Measuring just 95 x 343 x 318mm the X51 gaming PC packs serious punch as it comes with an Intel Core i3-2120 processor at 3.30 GHz and 3 MB of shared L3 cache, 4 GB of DDR3 memory, 1 TB 7200 rpm hard drive, NVIDIA GeForce GT 545 video card with 1 GB of GDDR5 memory, a dual-layer DVD-RW drive, Wireless-n WLAN half mini-card, 7.1 HD sound with Waves Maxx Audio, USB 2.0 (6) and 3.0 (2) ports, headphone out and microphone, Gigabit Ethernet port, HDMI 1.4 port, a 240 watt PSU and to wrap it up -Windows 7 Home Premium x64 Edition.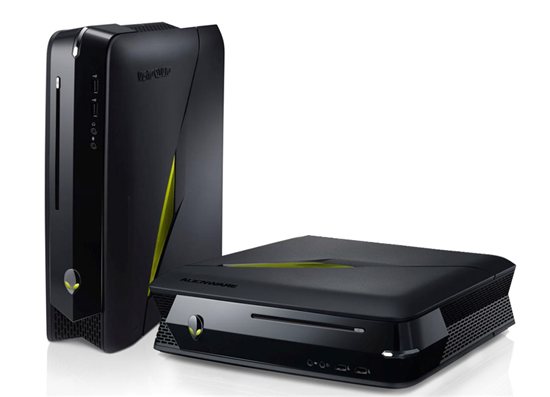 Some components are upgradeable – the processor can go up to an Intel Core i7-2600 chip at 3.40 GHz, the memory can be upgraded to 8 GB, the graphics card to GeForce GTX 555 1 GB and the DVD-RW drive to a Blue-Ray burner but the upgrades may need a more powerful PSU which in this case can go up to a 330-watt power supply unit.
As you'd expect with an Alienware machine, it has customizable lighting zones on the case, and just like a console it can be positioned either horizontally or vertically. As for included software, it ships with Alienware Command Center including AlienFX (lighting control), AlienFusion (power management), and AlienAdrenaline (game profiles).
In case you need support you can count on a new range of support services going under the name Alienware Gaming Services that offers a "team of trained technicians" ready to help setup new games, peripherals, game customizations, performance optimizations, health check your PC, and give you in-game troubleshooting all with a phone call.
What's even better is pricing – the base configuration costs just 699 USD but with upgrades the final price can easily exceed 1000 USD.
Source: Geek.com