For some people having the best hardware is often not enough – their hardware has to look great as well. That's why we get motherboards in fancy colors, huge colored memory heat sinks, strange CPU coolers and more. The memory maker Avexir has gone the extra mile, though – the company now offers DDR3 memory with integrated lightning tubes inside.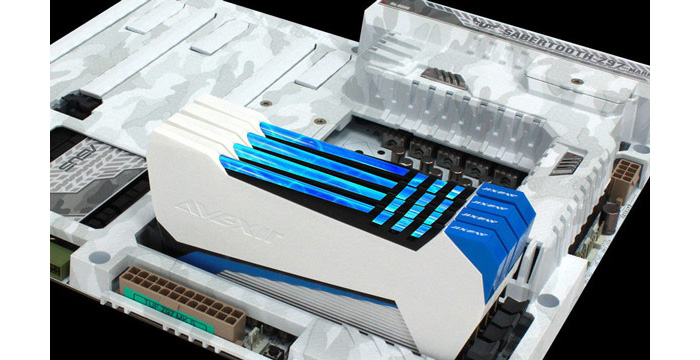 This exotic memory is combined in the new RAIDEN memory line, which carries the same name as the god of thunder and lightning in the popular Mortal Kombat game. The RAIDEN line is specifically optimized for the ASUS Z97 Sabertooth motherboard and comes with pretty good specs – an 8-layer main PCB, XMP profiles for up to 2400 MHz of memory speed, a machined aluminum heat sink, which takes care of the unnecessary heat, generated by the DRAM chips, and hand-selected memory chips for the best overclocking experience. The RAIDEN line currently offers DDR3 SDRAM that runs at 1866 MHz and 2400 MHz, densities of 4 GB and 8 GB and kits with 8 GB, 16 GB or 32 GB of capacity. The modules are also 63 mm high in case you plan to install a huge CPU cooler inside your PC case.
There is no information on how much the new Avexir memory costs so we are left guessing.
Source: Techpowerup.com