Corsair, a company known for its memory products, has added a new product series to its product list in the form of the new Accelerator series SSDs. First seen during CES 2012 they are now available for purchase.
Just like the name suggests the new SSDs are to be used for caching purposes mostly and come bundled with NVELO's DataPlex caching software. Caching SSDs do not need record storage capacities as they only store the most frequently used data and this is the reason why the new Accelerator series SSD arrive in 30 GB, 45 GB and 60 GB versions. Caching is also mainly aimed towards average users as utilizing two separate drives can be difficult for a novice user, but more advanced users usually want total control of their data. Low price will also attract customers and especially those people who haven't had a SSD so far.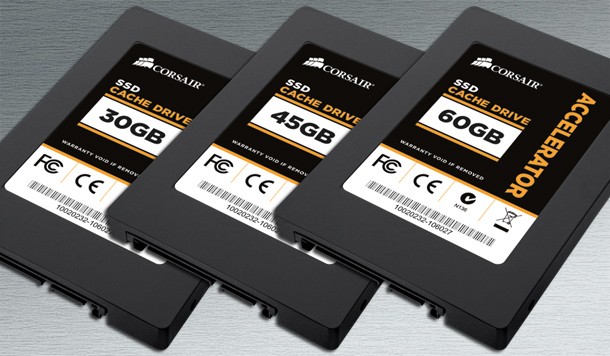 The new Corsair Accelerator SSDs arrive with SandForce controllers and SATA 2.0 support in order to keep costs down. The larger 45 GB and 60 GB drives are very similar as they both come with a SandForce SF-2181 controller and sequential read speed of 280 MB/sec while sequential write speed is limited to 260 MB/sec. The junior 30 GB model, however, is a little different. First, it comes with a SandForce SF-2141 controller and the sequential read speed has been lowered to 270 MB/sec while the sequential write speed is also down to 240 MB/sec. Despite the lower specs the 30 GB model won't make you feel dissatisfied, as the speed difference is hardly noticeable. In addition the only difference between the SF-2141 and the SF-2181 controllers is that SF-2181 supports up to 8 channels whereas SF-2141 is limited to 4 channels. And being made of four 8 GiB dies, it's logical for the 30 GB model to feature SF-2141 as only four channels can be populated.
The Corsair Accelerator SSDs come with a full three-year warranty and will be sold as follows – the 30 GB model costs 69 USD while the 45 GB and 60 GB models can be found for 84 USD and 99 USD accordingly.
Source: Anandtech