The Slovenian maker of cooling solutions EK Water Blocks has announced its first full-cover water blocks for the NVIDIA reference design GeForce GTX Titan X graphics card, based on the latest Pascal architecture.
All the blocks are known as EK-FC Titan X Pascal and they differ in the material used and the color. They directly cool the GPU, the RAM chips and the voltage regulation modules (VRM) since water flows directly over these very important components. This also allows nice overclocking results and stable video card operation. Moreover the new water blocks sports EK's unique central inlet split-flow cooling engine design for the best possible cooling performance. This allows them to work perfectly with reversed water flow without adversely affecting the cooling performance. In addition this design offers excellent hydraulic performance allowing this product to be used in liquid cooling systems using weaker water pumps. The base of the blocks is made of electrolytic copper (bare- or nickel-plated, depending on the variant) while the top is made of either acrylic- or POM Acetal material. The Plexi variants also feature two pre-drilled slots for 3mm LED diodes. Screw-in brass standoffs are pre-installed too and allow for a safe and painless installation procedure.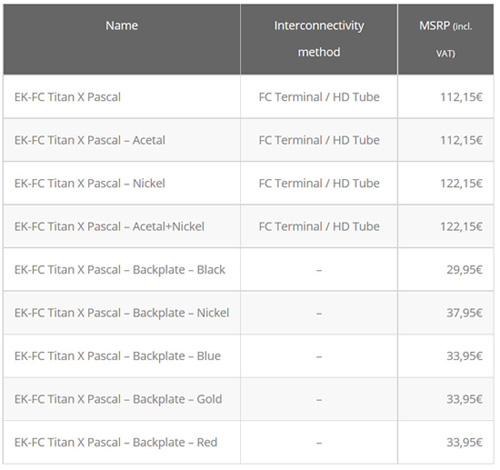 EK's new water blocks for the Pascal-based GeForce GTX Titan X video card will be available starting on August 16.
Source: EK Water Blocks