Mach Xtreme Technology Inc., a worldwide leader in top performance, high reliability and user-friendly designed PC components, has launched a new and improved series of MX-STARTER PREMIUM 2.5-inch SSDs for mainstream users who want the latest technology at an affordable price.
The new solid state drives offer users robust data protection with enhanced hardware BCH ECC engine, StaticDataRefresh technology support and data shaping for higher data reliability. Backed by 64 MB of DDR2 SDRAM serving as a buffer the new MX-STARTER PREMIUM SSDs come in 32 GB, 64 GB and 128 GB capacities and offer 150 MB/sec read speed and 80 MB/sec write speed along with the maximum of 10,000 IOPS and superior durability of 1.5 million MTBF hours. In addition the new SSDs are protected by a 1-year warranty and outstanding after-sales service.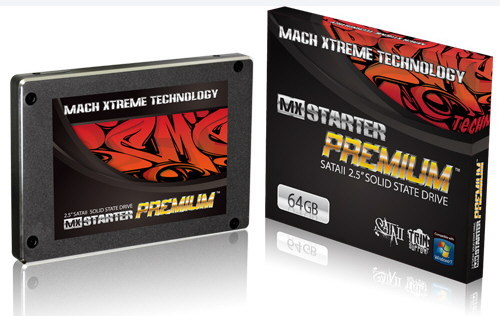 Pricing, however, is unknown at the moment.
Source: Overclockersclub