RunCore, the Chinese SSD researcher and manufacturer, has prepared three new solid state drives that will be presented at CES 2012 in Las Vegas, USA next year.
The Falcon series is a storage solution that is based on Marvell technology and offers very high read/write IOPS speeds. RunCore will also show a new Pro V series 2.5-inch SSD device that is just 7 mm thick and sports SATA 3.0 support and read and write speeds of 540 and 500 MB/sec correspondingly.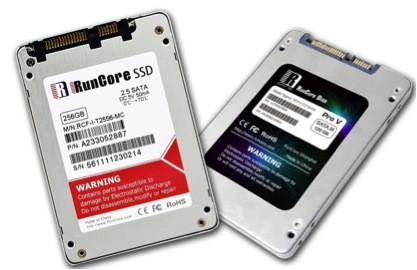 There's also a new SSD device that comes with data protection and bears the RunCore Xapear name. It features RFID technology and the function of movable Phone Encryption. The RFID system controls user access and uses a 128-bit AES encryption algorithm to control access permissions and the private space of the drive can only be accessed if the user has the authorized RFID tag. Users are also given the option to check the SSD status or activate the self-erase function by using a mobile phone with a binding SIM card via the GSM network. With such technologies this SSD is best suited for governmental or military needs or business enterprises that must protect important information.
Source: Muchunews