Rubik's Cube®, the number one best-selling game ever, has reached new heights—it has gone "touch" with the introduction of Rubik's TouchCube™, the first completely electronic solvable Cube. The solution to the classic Rubik's Cube puzzle, a global symbol of intelligence, used to be several turns away, but now it's only several swipes away. Rubik's TouchCube, featuring the same great game play of the Cube that has sold nearly 350 million pieces, utilizes the very latest in touch and motion technologies and will make its debut in New York City next week at the American International Toy Fair February 15th-18th.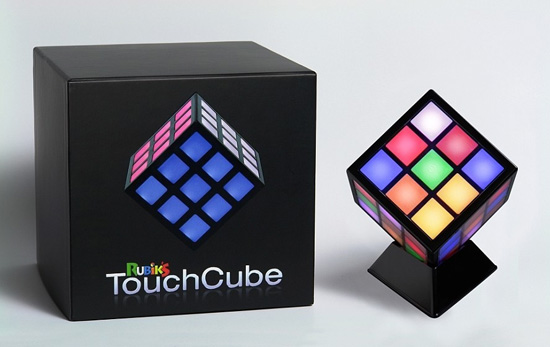 "We've been working on Rubik's TouchCube for the last three years—with engineering teams on two different continents—and are really excited to share it with the world," says Eric Levin, president, Techno Source. "Rubik's TouchCube is the 'dream cube' for anyone who's into high-tech gadgets—it combines today's most current technologies with the iconic Rubik's Cube."
How does it work? Rubik's TouchCube features touch sensor technology on all six sides, a motion-detecting accelerometer, and colored lights in every square. It even mimics the movements of the original 3×3 Cube—swipe a finger across three squares and the lights will follow, "turning" a side of the Cube; make an "L" shape to turn the top face of the Cube a quarter turn. Rubik's TouchCube's motion-detecting accelerometer only recognizes moves made on the top side of the Cube, so that a player's fingers won't move the lights on other sides when holding it.
Need some help? Solving the frustrations of hundreds of millions of Rubik's Cube players, Rubik's TouchCube also includes a built-in solver, so now anyone can easily learn how to solve the Cube step by step. Ask for a hint or watch Rubik's TouchCube solve itself.
Afraid you'll lose your place? Internal memory allows players to save their current puzzle so they can resume play anytime.
Love that iconic Rubik's Cube sound? Players can choose between modern or classic sound effects at varying volume levels to have a new or nostalgic Rubik's experience as they swipe.
Still stressed? Rubik's TouchCube stands alone as a great desk accessory—the colors slide and change while it recharges in its display stand.
Rubik's TouchCube follows Techno Source's Rubik's Revolution™, the first electronic version of the #1 selling Rubik's Cube. Rubik's Revolution has received dozens of awards, including Toy Industry Association's (TIA) 2008 TOTY "Game of the Year." Other electronic Rubik's games from Techno Source include Rubik's Revolution™ Micro Edition, a keychain version of the Rubik's Revolution featuring Light Speed™; and also new for 2009, the Rubik's Revolution™ Titanium Edition, which has a cool metal look and texture for a better grip as well as new electronic features.
Techno Source will be showing the Rubik's TouchCube at the American International Toy Fair from February 15th – 18th at the Jacob Javits Center in New York City, booth # 3149.
Rubik's TouchCube, will be in stores in the fall of 2009 and is appropriate for children ages 8 and up. It will retail for under $149.99. For more information, visit www.rubikstouchcube.com.
About Techno Source
One of the fastest growing companies in the toy business, Techno Source is a privately held toy company headquartered in Hong Kong and with offices in New York. The company is committed to delivering high-quality toys and games featuring top-tier licensed brands at aggressive price points. Its award-winning branded product portfolio includes Smiley Central®, Printies™, Disney®, Clickables™, Rubik's®, Bee® & Bicycle® (U.S. Playing Card Company), Intellivision™, Sesame Workshop®, Phase 10® (Fundex), Are You Smarter Than a 5th Grader?™ (Mark Burnett Productions), Guess What I Am!™, Ouaps™, X vs. Y, and Electronic Touch-Screen Sudoku™. For more information, visit www.technosourceusa.com.
Source: Buiness Wireali