Thermaltake, leading provider of computer cooling solutions, is introducing their latest addition in their wide range of liquid cooling products, the PW880i gets your PC in gear for the coming summer heat. In addition to this big size water cooling system, Thermaltake also offers water cooling solutions for VGA cards (WB400) and for the motherboard North Bridge (WB200), tailored for your individual cooling needs.

The PW880i is a powerful liquid cooling solution for the core of your PC the CPU. With a 24cm radiator equipped with two 14cm fans this is the ideal device for efficient heat dissipation.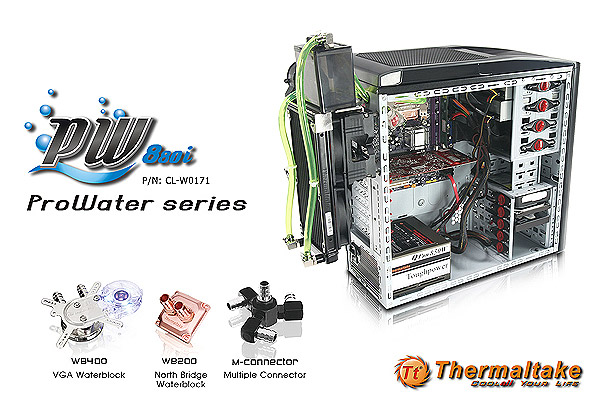 The solid CPU water block is made of pure copper with delicate brazing technology. Supporting most mainstream CPU sockets such as Intel LGA1366 and AMD AM3, the PW880i sports excellent cooling performance for demanding users and overclockers alike. As the tank and pump can be placed outside the chassis it offers two practical advantages: you gain more space within the case itself and maintenance is made easier and more convenient.
If you are looking for more specialized water cooling, Thermaltake is also offering interesting solutions. The WB400 VGA water block is equipped with an LED fan and supports mainstream high-end VGA cards, such as the nVIDIA GTX 285 or the ATi HD 4890. With the WB200 Northbridge water block you have a pure copper base with ideal thermal characteristics. The M-connector is a one-to-three connector. Its rotational hose connector provides users more flexibility to arrange their liquid cooling system. With parallel connection, the water blocks can be well-arranged and receives cool coolant from the radiator.
Source: Thermaltake