Broadcom Corporation, a global leader in semiconductors for wired and wireless communications, today announced that it is the first silicon provider to ship a true single die Blu-ray Disc® chip. The new Broadcom® BCM7630 offers an unprecedented level of integration combining proven optical front-end and back-end video decoding and display technologies in a single die solution. In addition to industry leading Blu-ray performance, the BCM7630 also supports leading-edge Internet streaming applications including Netflix® 2.0, Pandora® Internet Radio, Vudu™, CinemaNow® movie services and others. This unparalleled integration and functionality delivers a premium home entertainment experience to consumers.
Also announced today is the BCM7632, which supplements the capabilities of the BCM7630 by adding support for the playback of 3D Blu-ray movies. The potential for watching 3D movies in the home has generated great excitement with more than a dozen 3D movies released in 2009. Although the 3D Blu-ray standard is not yet finalized, it is anticipated that the BCM7632 will comply with the final specification.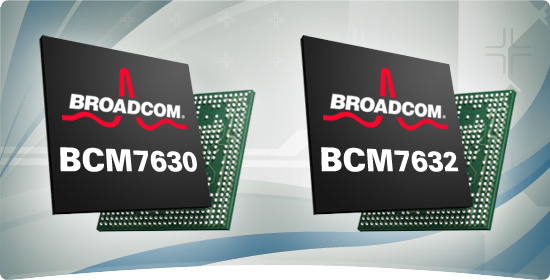 Highlights/Key Facts:
Broadcom's new BCM7630 and BCM7632 are the most advanced Blu-ray Discplayer silicon solutions available, offering the highest levels of system integration. This integration, combined with support forfeature-rich Internet-based streaming applications such as BD-Live, Netflix 2.0, Pandora Internet Radio, Vudu and CinemaNow movie services gives consumers a compelling home entertainment experience.
Both the BCM7630 and BCM7632 integrate Broadcom's proven optical front-end and world class back-end decoding technologies to create the industry's first true SoC Blu-ray solution. This integration provides the lowest cost solution, helping drive mass market adoption of Blu-ray Disc technology.
Blu-ray Disc players aren't just about movies. Internet streaming over Wi-Fi is fast becoming a mainstream requirement. The BCM7630 and BCM7632 support Broadcom's market-leading Wi-Fi and Bluetooth® solutions providing manufacturers with a system solution that features integrated wireless support. The Wi-Fi and Bluetooth solutions can also be used for remote controls.
The BCM7632 provides additional support for 3D Blu-ray Disc players in stereoscopic full 1080p resolution.
The BCM7630 is in production. The BCM7632 is sampling to early accesscustomers.
"Blu-ray Disc players are poised for continued growth in the coming year, and our next generation Blu-ray solutions will help bring to market a new line of players for 2010 that meet consumer demand for connected applications such as Netflix 2.0, Pandora Internet Radio, Vudu and CinemaNow."
Source: Broadcom