ViewSonic® Corp., a leading global provider of visual display and consumer electronics products, has mobilized the HD viewing experience with its new palm-sized VPD400 MovieBook™ media player. Partnering extensive storage with complete digital content support available and video output performance of up to 720p, the VPD400 is the ideal portable entertainment solution.
The ultra-thin VPD400 features a 4.3-inch, 800×480 high-resolution LCD screen for consumers to enjoy HD movies and video with optional subtitles, share photo albums, read digital books, record voice memos and listen to music while on the go. With 8GB of internal memory, an extendable Micro SD storage slot and a large capacity battery for playing up to 12 hours of audio and up to six hours of video on a single charge, the VPD400 provides a convenient way to consume programming while traveling or relaxing at home.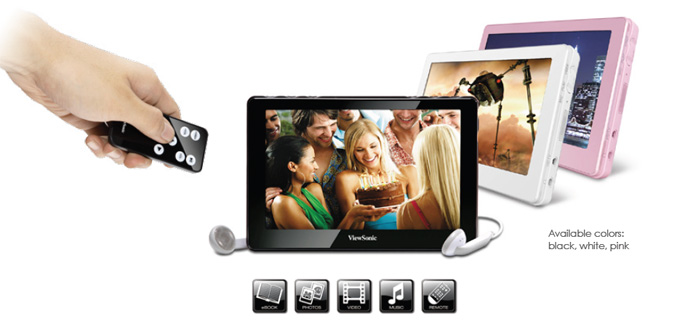 "Today's consumers have more gadgets than ever, most dedicated to performing a singular function," said Jeff Volpe, vice president and general manager of ViewSonic North America. "Our new MovieBook is designed to combine many of these individual devices into one, making digital content portable and user friendly."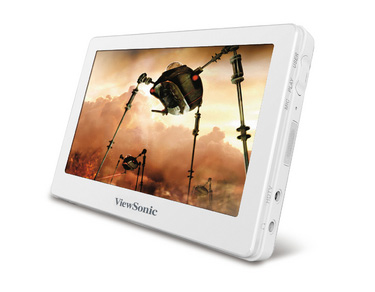 For sharing a full-sized entertainment experience with friends and family at home, the VPD400 easily plugs into any PC or TV, and the included remote control enhances the ease of content navigation. The ViewSonic VPD400 MovieBook is now available in time for the holidays in several stylish colors, including black, pink and white, at an ESP of $129.99. For more information on the VPD400, view http://www.viewsonic.com.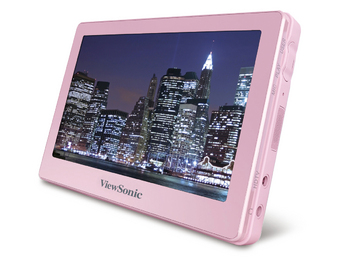 Source: ViewSonic